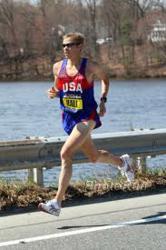 The Garmin 210 is a very popular running watch but the problem was it lacked color and the kind of pizzazz, especially for women where boring is a no-no
Bozeman, MT (PRWEB) October 10, 2012
The new Garmin Forerunner 210 multicolored GPS sports watch has just been announced by Garmin and it adds a burst of color to the Garmin 210 lineup according to the Heart Rate Watch Company.
"The Garmin 210 is a very popular among running watches but the problem was it lacked color and the kind of pizzazz, especially for women where boring is a no-no", says Rusty Squire, President of the Heart Rate Watch Company. He adds, "Not only does it have all the great running features and interval training but it now has a vibrant personality".
Like the old Nikon Ad with tennis player Andre Agassi from the 1990's - image is everything.
The form factor for the 210 was fine, as it was already one of the smallest GPS watch options on the market today, and the ease of use was furthermore a strong suit, so adding the further color option adds to the appeal for certain buyers.
"Garmin 210 has consistently been one of the top pure running watches and is used by world-class athletes, like Ryan Hall", says Squire, adding that, "Nothing has changed here but the package is a lot more sexy than black or gray to be sure".
This new version is sold as simply the watch with a charger unit, so for heart rate data that means buyers will need to purchase a Garmin chest strap to go with the unit. The 210 also works with an optional foot pod for cadence if that is a desired piece of data.
Garmin has also come out with a new multicolored Garmin Forerunner 610 with touch screen navigation for those that would like to add cycling functionality to their repertoire.
The new Garmin Forerunner 210 in multicolor is available to order at the Heart Rate Watch Company right now and ships in mid-October.