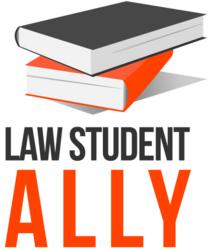 (PRWEB) October 12, 2012
Law Student Ally, a service that provides law students with a mentor and coach who is also a law school graduate, is now offering limited hourly assistance through the end of the Fall 2012 law school semester. Law students who need a boost, an outlet, and a confidential advisor, may contact Law Student Ally to schedule a session at info@lawstudentally.com.
"Law school would be so much easier if I had a personal assistant," is said by law students fighting to rise to the top of the most academically challenging endeavor of their lives. Law Student Ally answers the call for law school help by pairing each student with a recent law school graduate who clarifies material, recommends and locates supplemental material, provides advice regarding student tangles and stumbles, and helps law students plan for success in all areas of law school life.
Law Student Ally now provides this service in hour-by-hour increments. There is no long-term commitment. After a thirty-minute conversation in which the student shares needs and concerns, the student and Ally determine what follow-up assistance would most benefit the student. The Ally, a confidential advisor, follows up by identifying, preparing, and providing additional resources to assist the student. The cost is $100 per hour/session.
Nothing in a law student's life is off-topic, including academics, employment outlook, and home life. Law students take their whole lives to law school, and need an Ally who can assist with whatever students need to maximize total success. An Ally listens to students talk about what is heaviest on their minds in a confidential conversation. An Ally follows up the conversation by providing the student with tools and resources to improve student achievement.
With the assistance of an Ally, a work-life balance is easier to achieve.
The Law Student Ally program is unique because goes well beyond tutoring by not only providing law students with the tools needed to get top grades but also by positioning them for the careers they desire. Grades matter, but so does getting an article published, meeting lawyers in the community, landing great internships, and getting involved in resume-worthy activities. A Law Student Ally provides law student help by encouraging law students to realize the dream that is the motivation behind every law student's decision to tackle law school.
For more information and to schedule a session, go to http://www.lawstudentally.com