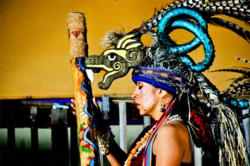 It's wonderful that the world is finally waking up to just what a rich and highly advanced civilisation the Maya produced here in the rainforests, highlands and beaches of Belize.
(PRWEB) October 10, 2012
With the approach of the 2012 Winter Solstice, an event earmarked in the Maya Long Count calendar thousands of years ago, the Lodge at Chaa Creek is preparing a series of activities to ensure that their December 21 2012 celebrations act as a "living link" between ancient and contemporary Maya culture, Chaa Creek owner and GM Lucy Fleming said today.
"It's an exciting time here at Chaa Creek as we're preparing for the week long 2012 Maya Winter Solstice celebrations centred on December 21. It's our most ambitious project yet, and we want to make sure we get it right, from the educational lectures and workshops through to the grand procession to the ancient Maya temple of Tunichilen on the night of the winter solstice.
"With the hand carved stone commemorative stela almost finished, as well as the plans for the Maya cultural village where workshops on Maya arts, crafts and traditional skills such as carving, thatching and cooking will be held, we're turning our attention to the menu for the elaborate Maya feast, traditional music and other details.
"And in the midst of all this, we've been speaking with members of our large Maya staff and people from local Maya villages such as Succotz near the ancient Maya temple of Xunantunich to ensure that today's living Maya are also well represented," Ms Fleming said.
Pointing out that some 12% of Belize's population is Maya, and that Maya leaders and individuals make significant contributions to Belize's multicultural society, Ms Fleming said that it's important that the Maya civilisation is not seen as a relic, but "rather a living, vibrant culture that draws on an ancient wisdom and has much to contribute to the world today – if we only listen."
With a worldwide population of some five million, for the most part still living in the region known as the "Mundo Maya" which takes in all of Belize and parts of Guatemala, Mexico, Honduras and El Salvador, contemporary Maya received worldwide attention when Rigoberta Menchú Tum was awarded the Nobel Prize in 1992 for her work with "social justice and ethno-cultural reconciliation based on respect for the rights of indigenous people."
However, as global attention shifted to the completion of the 14th Bak'tun of the Maya Long count and misinterpretations, fuelled by films such as "2012" and various internet sites, that it signals the end of the word, the lure of ancient Maya culture has eclipsed the realities of contemporary Maya.
"It's wonderful that the world is finally waking up to just what a rich and highly advanced civilisation the Maya produced here in the rainforests, highlands and beaches of Belize and the rest of the Mundo Maya, but those of us living here recognise that today's Maya still have much to say, and we are keen that they have a voice, especially when the spotlight hits the region during the 2012 Winter Solstice," Ms Fleming said, noting that Maya natural medicines, healing techniques, agriculture and concepts of mind/body balance are being studied and seen to hold promise for many people today.
Chaa Creek maintains a Maya Medicinal Plant Trail that has provided material for researchers from universities and institutions such as the New York Botanical Gardens, where research on potential cancer-fighting natural remedies is being conducted. Dr Rosita Arvigo, a former neighbour and Chaa Creek associate, has published Maya abdominal massage techniques that continue to help women worldwide. Maya agriculture, which supplied food for urban populations of over 150,000 at cities such as Caracol and Tikal and still practiced in Belize, is being rigorously studied as an alternative source of sustainable farming methods.
"It's no longer a secret that right here in Central America a civilisation that rivalled those of ancient Rome and Greece, independently developing writing, papermaking, sophisticated surgery, mathematics, astronomy , architecture ,urban planning and so much more, flourished and then inexplicably disappeared, covered up by the fast growing rainforest.
"But what still needs to be highlighted is how much we can still learn from the Maya. It's something we do every day at Chaa Creek, and, using the Maya 2012 Winter Solstice as a spotlight, is something we want to show the world while celebrating the glories of this amazing civilisation during Chaa Creek's week-long December 21 Maya extravaganza," Ms Fleming said.