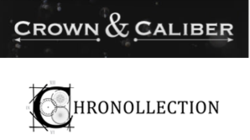 Atlanta, GA (PRWEB) October 11, 2012
Crown & Caliber, the nation's premier online purchaser of high-end luxury timepieces, is partnering with Chronollection, the leading digital reference platform for watch connoisseurs. Through its partnership with Crown & Caliber, Chronollection will now be able to offer its individual customers the ability to sell a watch. This program will allow watch enthusiasts who are searching for an exclusive timepiece through Chronollection the opportunity to sell their luxury watch to Crown & Caliber, without ever leaving the Chronollection website.
Often times, an individual wishing to buy a luxury timepiece would prefer to first sell an existing timepiece. Historically, customers would need to sell a timepiece at one place, and then buy their new timepiece at another. By partnering with Crown & Caliber, visitors to Chronollection now have the ability to both buy and sell a timepiece in a safe and easy way.
Crown & Caliber partners with retailers and online listing services to provide a turnkey trade-in portal for its customers. By "powering" the trade-in section of a retailer's site, Crown & Caliber allows retailers the benefits of a trade-in program without the hassles. For more information on Crown & Caliber's Retail Trade-In Program please visit: http://www.crownandcaliber.com/retailer/
About Chronollection
Chronollection displays thousands of watches from some of the top luxury watch brands, such as Rolex, Chopard, Patek Philippe, Audemars Piguet, and many others. With 380 professional dealers in 46 countries and a listing base of over 125,000 watches, Chronollection provides professional watch dealers with a venue where they can advertise their inventory to prospective watch buyers. Chronollection only works with professional and proven watch dealers and tracks every transaction, providing both seller and buyer with assurance of a successful transaction. For more information, please visit http://www.chronollection.com
About Crown & Caliber
Crown & Caliber is the nation's premier purchaser of high end luxury watches. By visiting the Crown & Caliber website, customers can obtain a free quote for their luxury watch. Crown & Caliber will then mail (at its expense) insured shipping materials to the customer and once received, send payment. The horology experts at Crown & Caliber have been purchasing luxury timepieces for over 20 years and are equipped with the skills to offer the best price possible for your watch. The high prices paid by Crown & Caliber have consistently been applauded by its customers. Crown & Caliber's corporate headquarters is located in Atlanta, GA. It is venture-backed by the Atlanta-based private equity firm Powell Growth Capital, LLC. For more information or to obtain a free quote for your watch, please visit http://www.crownandcaliber.com