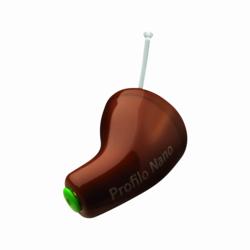 Profilo Nano offers covert professionals the discretion of the industry's smallest ever earpiece form factor with the confidence that zero interference brings
(PRWEB) October 21, 2012
For covert radio users such as undercover police and surveillance teams, two things matter above all else: uninterrupted communications and discretion. Today the company behind the industry-standard Phonito earpiece family, Phonak Communications, brings to the security market a new receiver solution that perfectly meets both these needs: the Profilo Nano covert earpiece.
This next-generation covert earpiece is so small as to be completely invisible to bystanders and thanks to its proprietary transductive technology it is 100% immune to the electromagnetic interference (EMI) that alarm systems, vehicles and other electronic circuits can cause. Its audio quality has also further been enhanced over previous Phonak earpieces, ensuring crystal-clear speech clarity that trial users have described as "perfect".
"With the launch of Profilo Nano we can offer covert professionals the discretion of the industry's smallest ever earpiece form factor with the confidence that zero interference brings," said Evert Dijkstra, Managing Director of Phonak Communications. "Radio users who employ Profilo Nano can therefore rest easy knowing that they will never be spotted (at least not due to their choice of earpiece) and will never miss a command due to EMI."
Available in beige or dark brown, the Profilo Nano covert earpiece is available with a variety of different covert wiring kits and PPTs. A wide choice of radio connectors are available (including the latest TETRA models), and a special connector is also available for Phonak's Bluetooth (BT) module; enabling Profilo Nano to be used with BT-enabled communication terminals. All Profilo Nano neckloops include dual quick-release safety connectors and are available in several lengths and colors.
Phonak earpieces are the result of several decades' worth of hearing research and experience. This is why thousands of security professionals around the world trust a Phonak in their ear.
Learn more about Profilo Nano at http://www.phonak-communications.com or try the earpiece at one of Phonak's upcoming trade shows.
Profilo Nano is available immediately from Phonak-approved retail partners.
About Phonak Communications
Since 1992 Phonak Communications has helped professionals to communicate effectively in challenging environments. Thanks to our working closely with end users to develop solutions that perfectly meet their needs, our miniaturized wireless earpieces, headsets and professional hearing protection devices are used and trusted by demanding customers around the world. Based in Murten, Switzerland, Phonak Communications is a member of Sonova Group, the world's leading hearing healthcare company.