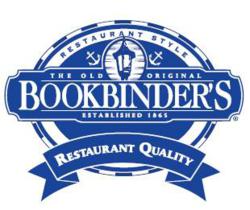 "There is a strong demand for great tasting, restaurant-quality food that can be easily prepared in the home or office. Indulgences should be enjoyed!" Sean O'Neil, Bookbinder's Chief Soup Officer
Philadelphia, PA (PRWEB) October 11, 2012
Taste is paramount this weekend at the 2012 TASTE Philadelphia Festival of Food, Wine and Spirits, and will include the legendary gourmet taste of Bookbinder soups.
Bookbinder Specialties, a PA preferred company, will showcase six favorites, include the legendary Bookbinder Snapper Soup, their top selling Bookbinder Lobster Bisque, and four new all natural and gluten free indulgences, at the Greater Philadelphia Expo Center at Oaks, on October 12th through 14th.
The 2012 TASTE Philadelphia Festival of Food, Wine and Spirits, presented by Gourmet Shows, features the finest in gourmet foods, wine, and spirits, including demonstrations by local chefs and culinary personalities. The festival's center stage presenter is Skinnygirl cocktail creator, Bethenny Frankel, of Bravo's Bethenny Ever After..., who will demonstrate her food and drink recipes. There will be more than 200 stations featuring favorites from regionally-renowned restaurants and brands, including Bookbinders.
The Bookbinder soups featured will be their legendary Snapper (turtle) Soups, and their award winning and top selling, Lobster Bisque. Also available for sampling will be four new, all natural and gluten free soup flavors: Southwestern Clam & Corn Chowder, Butternut Squash & Mushroom Soup, Sicilian Tomato-Zucchini Bisque, and Tuscan Minestrone Soup.
"There is a strong demand for great tasting, restaurant-quality food that can be easily prepared in the home or office. Indulgences should be enjoyed!" explained Sean O'Neil, Bookbinder's Chief Soup Officer.
Bookbinder's soups have been a staple in the Philadelphia area, and served in the Old Original Bookbinder's Restaurant since 1865. The restaurant created a foods division in the early 1970s to share the original restaurant favorites as packaged foods sold throughout the United States. Today, Bookbinders Specialties carries on the tradition of the restaurant while catering to the expectations of the nation's gourmet consumers. The soups are sold in natural and specialty food stores across the United States, including most Giant, Acme, Shop-Rite, Pathmark, SuperFresh, The Fresh Grocer, Redner, A&P, and Weis markets in the greater Philadelphia area.