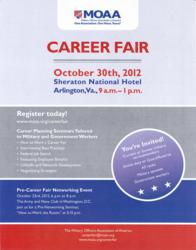 Alexandria, Va. (PRWEB) October 15, 2012
A free career fair for active duty, retired, former service, Reserve/National Guard officer and enlisted service members and their spouses will be held from 9 a.m. to 1 p.m. (Pre-Career Fair Seminars begin at 8 a.m.) on Tuesday, October 30, at the Sheraton National Hotel, 900 S. Orme St., Arlington, Va. 22204. The career fair is hosted by the Military Officers Association of America (MOAA).
Employers from 50 regional and national companies will look for potential employees in a variety of job skills. Businesses and organizations attending include: Microsoft, CGI Federal, Amazon, Lockheed Martin, Chick-fil-A, Inc., and more.
Several free, 60-minute pre- career fair transition seminars are open to the public. "How to Work a Career Fair," "Interviewing Best Practices," and "Federal Job Search" seminars will be held from 8 a.m. to 9 a.m. "Evaluating Employee Benefits" will be held from 11 a.m. to 12 p.m. Afternoon seminars include "LinkedIn and Network Development" and "Negotiating Strategies" which will be held from noon to 1 p.m.
No preregistration is required for the Career Fair. For further information, call (800) 234-MOAA (6622) toll-free (Mon through Fri 8 a.m. to 6 p.m. EST), e-mail careerfair@moaa.org, or visit About MOAA Career Events on the MOAA's website at http://www.moaa.org/careerfair.
MOAA is known as a leader in the military-to-civilian career transition field and has been helping military personnel to obtain second careers for more than 60 years.
This fair is being held in conjunction with MOAA's annual meeting. To register or see a full schedule of events, go to 2012 MOAA Annual Meeting – A Capital Event or http://www.moaa.org/capitalevent/.
Get a head start by attending MOAA's Pre-Career Networking Event, Tuesday, Oct. 23, 2012 from 6 p.m. to 8 p.m. at the Army Navy Club, 901 Seventeenth Street NW in Washington, DC. There will be a pre-networking event seminar on "How to Work the Room" starting at 5:15 p.m. Meet with employers and other MOAA members who have successfully made their transitions. Event is open to all. RSVP to careerfair(at)moaa(dot)org.
# # #
About MOAA:
Military Officers Association of America (MOAA) is the nation's largest officers association with 370,000 members from every branch of service, including active duty, retired, National Guard, Reserve, and former officers and their families and survivors. MOAA is a nonprofit and politically nonpartisan organization and an influential force in promoting a strong national defense. MOAA represents the interests of service members and their families in every stage of their lives and careers, and for those who are not eligible to join MOAA, Voices for America's Troops is a nonprofit MOAA affiliate that supports a strong national defense. For more information, visit http://www.moaa.org .
CONTACT:
Susan Stalder
703-838-0546
Nancy Carr
703-838-0545
E-mail: pr(at)moaa(dot)org