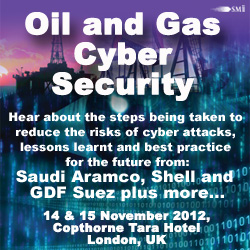 London (PRWEB UK) 10 October 2012
Cyber security attacks have outpaced defensive efforts over the past several years with groups of attackers, state-sponsored or otherwise, researching new vulnerabilities and threatening networks. This highlights the importance of threat deterrence, as part of an effective cyber security strategy.
Former FBI lawyer and chief of the bureau's Cyber Intelligence Section, Steven Chabinsky has noted that "Physical security focuses first on threat deterrence, not vulnerabilities. Networks can't be fortresses or bunkers. Dynamic systems are incompatible with vulnerability focused systems".
-Source: Threat Post
Against this backdrop, SMi Group are pleased to announce that Shawn Henry, President, Crowd Strike Services and former Executive Assistant Director, FBI is confirmed to speak at the second annual Oil and Gas Cyber Security conference. The event will address these recent developments from the perspective of oil and gas companies in information protection, threat mitigation, behavioural and intrusion detection, situational awareness and defending against advanced persistent threats.
Hear unique presentations and recent case studies on the challenges of security architecture, securing end point devices and authenticating applications, and network with some of the industry's most authoritative Oil and Gas professionals including Saudi Aramco, Shell and GDF Suez.
For more niformation, visit the website at http://www.smi-online.co.uk/2012cyber-security50.asp