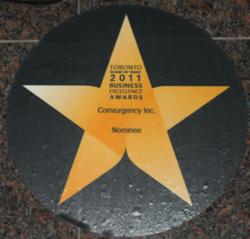 To be singled out in this category is an honour.
Toronto, ON (PRWEB) October 11, 2012
Each year the TBOT selects a small number of local small and medium businesses (SMB) across a range of categories. For 2012, they highlighted Convurgency's advancement of digital marketing by nominating them in the prestigious "Innovation" category. "Small and medium businesses are at the heart of innovation," explains Convurgency founding partner, Aaron Mogadam. "To be singled out in this category is an honour. It means that TBOT understands and recognizes the advancements we've made in digital marketing."
The company's reputation as digital innovators is well earned. Last month, President Justin Cook was an active participant in a Google Engage sponsored digital hangout with "America's greatest marketer," Seth Godin. "Godin's message – that digital agencies are ushering in an unprecedented new era of intent- and connection-based advertising – was very inspiring," says Cook. He adds, "Godin's insights on the evolution of branding and awareness marketing initiatives are key takeaways that will allow Convurgency to stay on the cusp of emerging technology. And that's what allows us to provide results-oriented digital marketing for our clients."
Both Cook and Mogadam will be on hand at the SMB Exchange on Tuesday, October 9 at the Toronto Board of Trade where Cook will be giving a keynote address discussing business development and marketing ROI geared specifically toward SMBs.
About Convurgency Inc.
Convurgency Inc. produces measurable results for marketing budgets. Whether it's creative, yet pragmatic site design or advanced SEO, Convurgency Inc. builds online strategies that produce better business results. If it's online, Convurgency Inc. delivers it. http://www.convurgency.com.