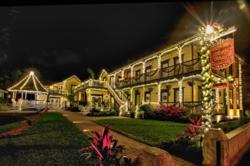 Last year, National Geographic named St. Augustine, FL one of the Ten Best Places in the World to see holiday lights.
St. Augustine, FL (PRWEB) October 30, 2012
Mike and Sandy Wieber, owners of the Bayfront Marin House Bed and Breakfast Inn know a thing or two about hanging Christmas lights. This year ,their 15-room inn will be decorated with approximately 6000 bulbs and almost 800 ornaments on wreaths and garlands as part of the town's annual Nights of Lights celebration.
Last year, National Geographic named St. Augustine one of the Ten Best Places in the World to see holiday lights. This year's Nights of Lights festival runs from November 17, 2012 through January 31, 2013.
"The stakes are higher than ever since we were recognized internationally," laughs Sandy Wieber. "Luckily, we have a couple of new ideas to up the ante this year for visitors to the town."
For homeowners who want to maximize the impact of their neighborhood display this year, Wieber offers the following suggestions:
1. Pick a style. St. Augustine requires that all buildings in the historic district decorate exclusively with white lights. To keep the display interesting and elegant, choose all warm or all cool lights. Warm lights will throw a more golden light, while cool lights will throw a more blue light, and are a little brighter.
2. Use different sized lights for interest. The Wiebers outline the main part of the building with one size light, using smaller bulbs to highlight the gingerbread and porches. The smallest bulbs can be used on wreaths or other outdoor greenery.
3. Accommodate for attaching strings. When you attach strings of lights to each other, there will be a large gap between the strings that will show up as a dark space on your final lighting design. Accommodate for the "lightless" part of string lights by attaching the lights, and wrapping the plain wire together with a metal tie. That will keep your lights evenly spaced.
4. Think beyond the house. Not all lights need to be on the house itself: a nice touch is to place a small table by the front door, covered with a tablecloth and decorated seasonally. Balling up lights and putting them underneath the table diffuses the light and casts a welcoming glow. Multicolored lights can be used in accent areas to add some pizzazz to your design.
5. Have a plan. Each year, Sandy takes a photo of the inn and prints it on a black and white printer. She then highlights the areas she wants to emphasize with a yellow highlighter. This lets her see if the lights are balanced throughout the entire building.
6. Christmas trees outside are wonderful. The Bayfront Marin House has used several small trees (5' or less) in a small display, stringing them with green lights for a little contrast. Decorate them with glittery ornaments to sparkle day and night.
7. Remote controlled battery-operated candles are perfect for windows. The Wiebers turn them on at dusk, then off at 10:00 so that the light doesn't disrupt their guests' sleep. The remote control means that they don't have to walk into individual rooms to light them up.
8. Take pictures so that you'll remember what you did for next year.
9. When you put your lights away, try to be organized. Buy clear plastic containers, and mark them "lights for front fence", or "lights for second floor porch." This will save a lot of time when you put them up in 2013.
10. Don't forget spotlights and safety lighting. The Wiebers use uplights to showcase elements of their inn year round—such as the sidewalk, stairs, and trees. The couple uses those spots to show off special decorations; for instance, using an existing spotlight to light a large wreath on the front of their building.
"It takes us several weeks to light everything up," says Sandy Wieber, "and I know that isn't feasible for every homeowner. The trick is to make your display beautiful and eye-catching--no matter how many lights you use."
More Information about the Bayfront Marin House
The Bayfront Marin House in Saint Augustine, Florida is a 15-room, luxury bed and breakfast inn. Located on the Matanzas Bay, the bed and breakfast offers stunning views of the water, hot southern breakfasts each day, along with the highest levels of personalized customer service. The lodging has been awarded TripAdvisor's Certificate of Excellence for 2012.