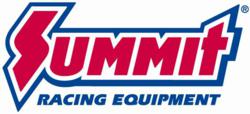 Tallmadge, OH (PRWEB) October 11, 2012
Designed for the DIY painter, Summit Racing has improved its 2 -Stage Basecoat/Clearcoat Paint System to make it easy to choose the correct components. The paint is easy to apply, cleans up quickly, and looks fantastic--the perfect way to get a great-looking, long-lasting finish.
The Summit Racing 2-Stage Systems use a basecoat (first stage) and then a clearcoat (second stage) to create an outstanding finish. These American-made paints are available in 40 vibrant basecoat colors and are formulated to create a brilliant finish with minimal drying times. This system includes a line of primers, sealers, clearcoats, reducers, hardeners, and specialty additives to provide professional results.
Now it's easy to choose compatible products--a signature car on the product's label easily identifies each system. A Camaro denotes the 2-Stage National Rule System, a Hot Rod indicates 2-Stage Low VOC System. Product labels featuring a painter work with both systems.
By eliminating many of the complicated application steps and offering a core group of color options, Summit Racing is able to reduce the overall cost to the painter. The systems also make the ordering process less complicated.
Summit Racing's 2-Stage National Rule and 2-Stage Low VOC Paint Systems are available online at SummitRacing.com.