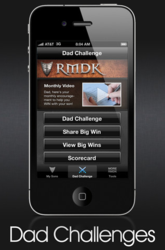 It's amazing to witness and assist someone in the pursuit of his or her passions. Witnessing Robert restructuring how curriculums are represented and available was truly amazing; being able to help with the process was humbling - Luke Frederick
(PRWEB) October 15, 2012
Sheepish Design is proud to partner with pastor, writer, and speaker Robert Lewis for the design of Raising a Modern-Day Knight, an iPhone app. This free, downloadable app offers a range of features including photos, notes, challenges, and resources that coincide with the Raising a Modern-Day Knight curriculum.
By expanding Robert Lewis's curriculum to a mobile platform, Raising a Modern-Day Knight – Focus on the Family's best selling publication – sets the trend for how curriculums are to be viewed, used, and represented in a digital world. This new app brings alive the passion, effectiveness, reach, and experience that written curriculums alone do not offer. Designed to further empower the influential program of Robert Lewis, the Raising a Modern-Day Knight iPhone app is a simple, effective, and custom designed mobile representation of the importance of being a father.
With the ability to take and store pictures, write special notes, engage in monthly encouragements, and watch high-impact videos, Raising a Modern-Day Knight is a practical application for fathers and sons to store memories and develop better relationships.
Raising a Modern-Day Knight will help dads further engage in their parental roles, capture those special moments, and discover great "dad ideas," all on a mobile platform.
For more information visit: http://www.rmdk.com