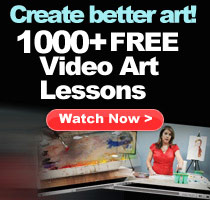 We often receive emails and phone calls from teachers and students thanking us for the free video art lessons that they use in a classroom or workshop setting
Raleigh, NC (PRWEB) May 24, 2012
Online art supply retailer and artists' resource JerrysArtarama.com has recently reached a milestone in their Free Video Art Lessons campaign: over 1000 art instructional videos are now posted on their website for visitors to view and learn from at no cost.
Recognizing the need for accessible art instruction in today's society, Jerry's Artarama set out to develop a free online program where anyone – regardless of age, skill level, or preferred medium – could learn valuable new art tips and techniques from the comfort of their own home. The JerrysArtarama.com website features a separate area dedicated solely to this growing collection of art instruction videos from over 55 professional artists and experts, including such prominent figures as Adam Hughes, Tom Flemming, Bob Rankin, Wilson Bickford, Mike Rooney, Judi Betts, Tom Jones, Luana Luconi Winner and more. With various subdivisions, it's easy to browse the entire collection by artist, medium, skill level, subject, newly added videos and product demos. Want a new free video art lesson? JerrysArtarama.com's free video art lessons offers all the new free art lessons on video conveniently accessible in a section called the new free art lessons to easily find the latest techniques and ideas. Want to be alerted to new video art lessons? That is available too as they offer the ability to sign up for email alerts and or mobile text messages and instantly receive an alert when a new free video art lesson of interest is selected.
With over 1000 videos posted and more on the way, there is something at JerrysArtarama.com for every artist. Free video lessons on how to draw, acrylic painting techniques, picture framing, watercolor glazing, comic book art, oil painting tips, kids' art projects, Sumi-E painting, soft and oil pastel techniques, and many more are all available at no charge whatsoever. Viewers can learn about anything from figure drawing to art history, color theory to negative painting, printmaking to plein air painting and everything in between. There's no stress of a classroom environment or the feel of an audience: visitors can follow along and learn at their own pace from the comfort of their own home, pause, stop, rewind and even sign up to receive email alerts when new lessons are added to the website.
Learning art at home is not the only option with Jerry's Free Video Art Lessons: they can also be an invaluable tool for school teachers and art instructors, and an effective aid in the art classroom. Whether beginner, intermediate, advanced, kids or all levels – there are lessons available for any skill level and in just about any medium. Teachers are free to use any of the JerrysArtarama.com Free Video Art Lessons in their classroom to enhance their teaching experience.
"We often receive emails and phone calls from teachers and students thanking us for the free video art lessons that they use in a classroom or workshop setting" says Director of Marketing at JerrysArtarama.com, Michael Marchetta. "Do to the massive use and success of the program, there are plans for a phase three which will include new social tools, storing favorites, communicating with the artists, presonal video accounts, streaming videos, play lists and so much more"
Despite the plethora of posted videos, Free Video Art Lessons are only the tip of the iceberg in Jerry's Artarama art instruction. Jerry's also boasts a massive collection of full-length art instructional DVDs on an even wider range of topics than the shorter free lessons. If a viewer is interested in a particular lesson, he or she can get more in-depth instruction from any number of available DVDs. Detailed product lists show the art supplies used in particular lessons or DVDs, so students can easily find all the necessary materials to complete the lesson in one convenient place.
Through the production of their Free Video Art Lessons, Jerry's Artarama strives to give back to the art community and promote learning on every level. To learn more, please visit the Free Video Art Lessons website at http://www.jerrysartarama.com/art-lessons/free-art-instruction-videos.html. For media outlets interested in utilizing any of the Jerry's Artarama Free Video Art Lessons, please contact Michael Marchetta at 1-800-827-8478 ext. 125, or mmarchetta(at)jerrysartarama(dot)com.