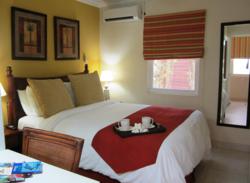 In addition to being close to the best nightlife on the island, every room at the Yellow Bird has an ocean view
Bridgetown, Barbados (PRWEB) October 02, 2012
One of the most popular Barbados hotels has produced a video with RealHolidays.TV showing the local attractions and exciting vacation life as found on the island and particularly in the trendy St. Lawrence Gap.
The entire HD video may be seen at http://youtube.com/watch?v=Hb8j6FLhOao
"This video is not just for the hotel. It is for all of Barbados. We encourage everyone to watch and see the quality of life we have here. Then, come visit us," said Yellow Bird Hotel owner, Geeta. "You will not want to go home."
The video takes viewers on a virtual tour of the Hotel and some highlights of the St. Lawrence Gap. Locally known as "The Gap," Yellow Bird is only a very short walk away from clubs, rum bars and a number of restaurants offering fare from around the world.
The video also takes a look at the nightlife in what is locally known as "The Gap". The streets are full of people enjoying the evening. Live entertainment is very common in the neighborhood, with music from pop and rock to reggae and jazz. The Yellow Bird is also located in The Gap so it is a convenient location for those who wish to experience all the attractions there.
"In addition to being close to the best nightlife on the island, every room at the Yellow Bird has an ocean view," Geeta said. "We offer one and two bedroom apartments, all with air conditioning, ceiling fans and kitchenettes. As much as people like the restaurants, they sometimes want to cook food they buy on the island for themselves."
For more information visit http://partyplaces.yellowbirdbarbados.com or call 246-418-8444.
ABOUT
The Video was produced by RealHolidays.TV as part of a marketing campaign by AXSES.
AXSES is a leader in Travel Marketing. It was one of the first companies to develop a direct bookings application for Facebook, and has consistently been an innovator in all aspects of travel marketing.
In 2011, AXSES was featured by the New York Times in an article on Social Media use in Travel.
The AXSES team works with professionals in the hotel, tourism and travel industries, to help build their businesses through all forms of social media and conventional marketing. See http://SocialIndexEngine.com
http:// YouTube Video http://www.youtube.com/watch?v=Hb8j6FLhOao
By AXSES's RealHolidays.TV