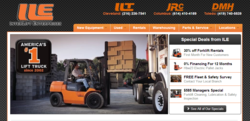 (PRWEB) September 30, 2012
Interlift Enterprises, a Toyota forklift dealer with three locations in Cleveland, Columbus and Toledo Ohio made the long awaited jump to Equipmentbase.com for their new website. Interlift needed a solution that would provide all three of their brands including ILT Toyota-lift, JRC Toyota-Lift and DMH Toyota-Lift with a modern, search engine friendly design and customization options for each branch. Interlift took advantage of the diverse functionality available to equipment dealers on the Equipment Base platform such as featured new and used equipment, directions to locations, complete tracking of visitors and phone calls and more, but what they really wanted to highlight was their custom deals to bring more customers into their dealerships. Their homepage now prominently showcases deals for forklift rental, financing, safety checkups and maintenance packages that they update monthly. Interlift is also the first Toyota forklift dealer in Ohio to take advantage of the new dynamic display for their services, which allows them to highlight exactly what sets them apart from their competitors in a clean and simple way. Their forklift repair department for example highlights their on-site service, fleet maintenance for large clients, and service on all makes and models of lift trucks.
Like Interlift, Toyotalift Northwest needed a serious modernization of their website design along with the ability to showcase the diversity of equipment that they offer. Far from only offering Toyota forklifts in Washington & Oregon, Northwest supplies Washington and Oregon with Takeuchi loaders and excavators, Karcher industrial sweepers and scrubbers as well as large capacity lifts from Kone Cranes and Hoist. The trick for Northwest was to immediately let visitors find what they needed, from warehouse owners to construction site managers to convention hall operators, every piece of equipment they need is no more than two clicks away. Most equipment sites will either simply link to a manufacturer site or list product images and descriptions verbatim which is bad for search engine marketing. Not Toyotalift Northwest, their "2 click showroom" is the ideal way for equipment companies to professionally showcase their diversity of products while keeping the content unique and the display appealing to visitors. Look for Northwest to update their employee profiles by location in the near future, so potential customers can get a feel for the local staff that is there to help.
Equipment Base continues to raise the bar with their platform that integrates high end custom website design with integrated search engine marketing and reporting. With a 100% US based staff of developers and Internet marketers, Equipment Base is dedicated to helping equipment dealers of all size and type enhance their profile online. Visit http://www.equipmentbase.com for a full list of services.