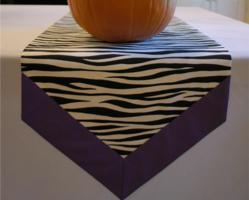 Foley, AL (PRWEB) October 02, 2012
Temptation lines the aisles of super stores and warehouse clubs nationwide: giant inflatable angry-looking ghosts for the yard and orange plastic candy bowls of questionable quality and origin that are unfairly tasked with attractively displaying, thoughtfully purchased, name brand candy for the neighborhood kids.
Undoubtedly, the ghosts will deflate- or GO Chic! will deflate them for you- and the plastic orange bowl will not live up to expectations once again.
Yes, Halloween is supposed to be scary. But, there is a significant difference in scary home decor and home decor that appears to have scared away good taste.
Allow the ladies of GO Chic! to set the stage for a trendy, modern Halloween with just the right amount of spook!
Start by laying the foundation with a modern black and purple (pictured) or traditional black and orange tablecloth, topper or runner made from actual cloth and not plain old plastic, so it's reusable year after year.
Line the porch or kitchen table with large square bowls and fill with treats such as candies and cookies or even a few tricks!
Cooking up some witches brew? Serve it in a coordinating galvanized drink tub for a tastefully scary scene that is sure to please.
Top it off with one of GO Chic's signature tent chandeliers. Popular with the tailgaters throughout the southeast, these chandeliers can be customized in a plethora of color choices. Choose black with orange accents and burnt orange End-zone Elegance lampshades for eye candy with a Halloween vibe.
For more ideas on how to keep your home Halloween chic and to order, go to shopgochic.com. Please allow 7-10 business days for delivery for all custom-designed, made-to-order items.
About GO Chic!
GO Chic! is a custom tailgate and party décor company that has been in business for 3 years. Based in Foley, Alabama, GO Chic! has three generations of design experience, and is committed to manufacturing original products in the United States. Attention to every detail throughout the hands-on design and fabrication process ensures the highest quality products the customers have come to expect. To view the collection and for ordering information go to http://www.shopgochic.com.