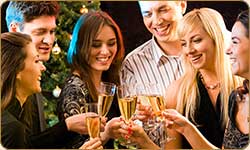 This has been exactly what I needed for my mind, body and soul. You have made this a very special place. Thank you from the bottom of my heart.
(PRWEB UK) 5 November 2012
Research conducted and released by the British Dietetic Association claims that the average person will gain up to half a stone in weight over the Christmas holiday period. This is a huge amount of weight to gain if you're working towards a fitter and healthier lifestyle and does nobody any favors in the long run. A 7 day weight loss break at Homefield Grange Detox Retreat gives the body a chance to detoxify and the sessions arranged throughout the stay give residents a chance to become in tune with their body's needs.
The Ultimate Seven Day Detox Retreat at Homefield Grange can be personally tailored to any circumstances and is ideal for reflecting upon weight loss goals and kicking those little indulgences into touch. The package includes a full range of cleansing and nutritional elements which work with the body and mind to achieve a happier, healthier you. The Christmas holiday period is extremely tempting and it is difficult to avoid those vices of the past but a weight loss break gives residents the chance to refocus their mind, consider their goals and think about their future as a much healthier, fitter and lighter individual.
Seven Day Detoxes run at the spa retreat from Monday to Sunday every week and all residents are treated by qualified professionals in beautiful, rural Northamptonshire and are assured to leave the centre feeling refreshed, rejuvenated and above all, lighter in just one week.
Company information
Homefield Grange is a dedicated, established and permanent spa retreat open 51 weeks of the year, assisting clients making positive changes towards their health and well-being. This caring team of qualified practitioners will provide all the help you would expect from a professional organisation.
For more information about Homefield Grange you can visit http://www.homefieldgrange.co.uk or call 01536 712219 or you can email enquiries(at)homefieldgrange.co.uk