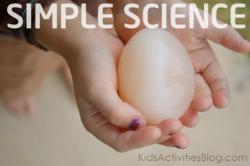 Making a naked egg is one of the best kids science and biology experiments ever!
Dallas, Texas (PRWEB) November 01, 2012
Making a Naked Egg is one of the best kids science experiments ever! The egg experiment teaches not only basic science skills but also makes learning all about cells much more fun according to Moms blogging on Kids Activities Blog.
Learning about the building blocks of life, cells, becomes much more fun by making the egg experiment with kids at home. Start off by placing an egg into vinegar. The acid of the vinegar will dissolve the calcium of the egg shell.
Let the kids observe and record the major happenings during the transformation of the egg. After only a few minutes, the vinegar will start to bubble and slowly dissolve the outer part of the egg. The kids will love the stage when the egg begins to dance in the liquid. After about 3 days, the egg will be completely naked in a see through membrane.
Let the kids handle the egg, that is now filled with lots of moisture, with great care because it can break easily. Making several naked eggs at one time is highly recommended. Study the parts of the cell by observing the naked egg. The kids will love this part to touch and see their naked egg.
Add the step to soak the egg afterwards in corn syrup. The kids will see what sugar will do to cells when they see that the egg begins to shrink and shrivel up. Sugar takes the moisture out of the cell namely the egg. Teaching kids about the bad effects sugar has on their body is much more memorable and real with this naked egg experiment. It will help them to stay away from sugar for years to come!
Other fun egg activities is making a string egg. Using crafting glue, string, balloon, hanger, pin, and tweezers assemble the string dipped in glue around the balloon. Making this activitiy outside is highly recommended because the glue part becomes very messy.
This and other fun egg experiments and egg activities are currently featured on Kids Activities Blog this fall. Come check out the latest science experiment for kids.
About Kids Activities Blog
Kids Activities Blog is a website created by two moms (who collectively have 9 children), Rachel Miller and Holly Homer from June Cleaver Nirvana. It is their daily goal to inspire parents and teachers to play with kids. This interactive website publishes simple things to do with kids twice a day. Kids Activities Blog is a great tool for moms and teachers to find kid-friendly activities that create memories and sneak learning into the fun.