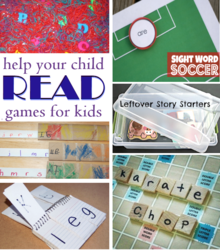 Teaching good reading skills is essential for school success!
Dallas, Texas (PRWEB) November 02, 2012
School is in full session and Moms are trying to find ways to improve reading skills. Finding new strategies for reading and making the reading process more interactive are the latest topics that Mom and teachers are blogging about on Kids Activities Blog.
In order to incorporate some fun strategies for reading to make reading more exciting for children try out these easy suggestions by Moms. One Moms' idea to make a simple pointer or viewer has the child actively engaged when reading a story. Make reading more exciting and interactive through the use of the pointer or viewer by following the instructions on Kids Activities Blog.
This pointer becomes an essential learning tool, where the child takes charge and partakes in the reading process.
Other fun reading games that have Moms respond in numbers are going on an alphabet hunt, a soccer and practice sight words game, making a simple word tube or a fun phonics flip chart, or play a scrabble variation to engage the kids in various interactive reading activities.
These and a laundry list of 140+ other fun reading games has Moms blog in numbers on Kids Activities Blog. Come get inspired this fall and read together with your child.
About Kids Activities Blog
Kids Activities Blog is a website created by two moms (who collectively have 9 children), Rachel Miller and Holly Homer from June Cleaver Nirvana. It is their daily goal to inspire parents and teachers to play with kids. This interactive website publishes simple things to do with kids twice a day. Kids Activities Blog is a great tool for moms and teachers to find kid-friendly activities that create memories and sneak learning into the fun.