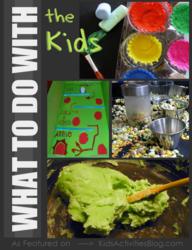 Go outside with a magnifying glass and see the world from a different perspective!
Dallas, TX (PRWEB) November 03, 2012
What to do with kids is a question parents and caregivers are asking on a daily basis. Kids Activities Blog has conducted research among 150+ suggestions from blogging Moms.
The most creative, easy and fun ideas are currently featured on Kids Activities Blog. Among the best of the best activities are making homemade paint, creating fun things out of recycled items, making homemade play dough, and letting Preschoolers have a blast with the Dig and Pour activitity.
All activities are kid tested and Mom approved and having fun by sneaking in some learning is what it is all about.
The most inspiring what to do with kids activities according to blogging Moms are taking a magnifying glass outside and seeing the world from a different perspective, mopping the floor in socks, putting on a music show, playing with shaving cream, and having a paper airplane contest.
All activities do not require one to go to the store. These are easy, simple games using household items. These and a laundry list of other fun creative kids activities are currently featured on Kids Activities Blog. Come check them out before getting bored at home!
About Kids Activities Blog
Kids Activities Blog is a website created by two moms (who collectively have 9 children), Rachel Miller and Holly Homer from June Cleaver Nirvana. It is their daily goal to inspire parents and teachers to play with kids. This interactive website publishes simple things to do with kids twice a day. Kids Activities Blog is a great tool for moms and teachers to find kid-friendly activities that create memories and sneak learning into the fun.