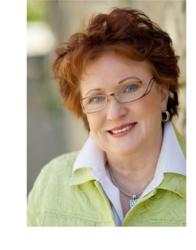 "While the prescription is unique to each individual customer, we use the Platinum Rule® as our foundation: treat other people the way they want to be treated. Demonstrate to your customer that you're paying attention to their expectations."
Woodstock, ON (PRWEB) November 07, 2012
Close-Up Talk Radio will feature Anne Miner, founder and President of The Dunvegan Group in a four-part interview series discussing customer satisfaction, customer care and customer retention. Show dates are November 20th at 12pm; November 23rd at 1:30pm; November 30th at 7:30pm and December 7th at 2:30pm.
Anne Miner maintains that the key to financial stability and sustained growth is customer retention. While the hunt for new customers is often more exciting and more highly rewarded than the nurturing of existing relationships, it often costs six to ten times as much for a company to acquire a new customer.
"We are specialists in customer care and customer retention," says Miner. "We help predominantly business-to-business companies better understand their customers to generate more revenue by better serving their customers."
According to Miner, businesses often assume their existing customer relationships are quite strong when in fact they haven't truly secured the relationship. Even when customers indicate that they are "satisfied" using one of the traditional measuring scales, if the relationship is weak, they may leave.
As part of their comprehensive approach, the Dunvegan team conducts annual customer satisfaction evaluation interviews with their clients' customers to assess what the customer values about their relationship as well as what they would like done differently. Once completed, a prescription for action is recommended to strengthen their relationships and leverage those relationships to generate referrals, one customer at a time.
"Each company program will measure some fundamentals, which we call good business practices, as well as specific practices unique to their industry," explains Miner. "While the prescription is unique to each individual customer, we use the Platinum Rule® as our foundation: treat other people the way they want to be treated. Demonstrate to your customer that you're paying attention to their expectations."
Anne Miner is the founder and President of The Dunvegan Group Ltd. In operation since 1987. Anne's company helps companies to keep satisfied customers, grow the business they do with satisfied customers and find more ideal customers.
Anne is an entrepreneur, a visionary leader and an acknowledged expert in the field of customer satisfaction measurement, customer care and customer retention. She holds a BA and an MBA from the University of Guelph and she was among the first researchers in Canada to be awarded the prestigious designation of "Certified Marketing Research Professional" by the Marketing Research & Intelligence Association. Anne is a certified trainer of the Platinum Rule® and she has successfully integrated its philosophy and practices into her own organization to help build strong bonds with employees and clients alike.
Anne is co-author of the Amazon best-seller, "Succeeding In Spite of Everything!", July 2012 and author of "Measuring Up! A guide to success with customer satisfaction", September 2008.
Listen to the show http://www.blogtalkradio.com/closeuptalkradio. If you have a question for Anne Miner during the live radio interviews, call (347) 996-3389.
For more information about The Dunvegan Group visit http://www.dunvegan.ca
Contact Deb Willert at 877-459-6631