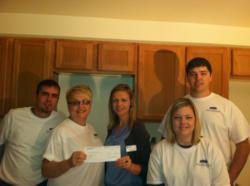 It's very rewarding to see the impact we have on the lives of those we are helping.
Wichita, Kansas (PRWEB) November 06, 2012
Foundation Financial Group employees at the company's Wichita retail branch, located at 11333 East Kellogg Avenue, participated in a Wichita Habitat for Humanity build event that benefited a local Wichita family. On October 13th the FFG team volunteered their time in support and also made a monetary donation to the cause.
Wichita Habitat for Humanity offers homeownership opportunities to families who are unable to obtain conventional house financing. Generally, this includes those whose income is 30 to 60 percent of the area's median income. In most cases Wichita Habitat homeowner families pay $1800 in closing costs at mortgage signing, and make monthly mortgage payments averaging $425 a month. Additionally, they contribute 250 to 400 hours of "sweat equity" on the construction of their home or someone else's home. Because Habitat houses are built using donations of land, material and labor, mortgage payments are kept affordable.
Wichita Habitat builds houses in partnership with those in need regardless of race, religion or any other difference. Prospective homeowners must meet three criteria: need; ability to repay the mortgage; and a willingness to partner with Habitat.
Habitat for Humanity is not an arm of the government. Habitat is an independent, nonprofit organization that accepts some government funds and other resources to help provide houses for those in need.
Habitat was started in 1976 in Americus, Ga., by the late Millard Fuller and his wife Linda. President Carter and his wife Rosalynn have been longtime Habitat supporters and volunteers who help bring national attention to the organization's house-building work. Each year, they lead the Jimmy Carter Work Project to help build houses and raise awareness of the need for affordable housing.
Habitat for Humanity's mission is to bring people together to build homes, communities and hope. Its vision is a world where everyone has a safe and affordable place to live.
"I can't fully express the pride I feel for being a part of this wonderful cause," said Foundation Financial Group Event Coordinator, Bobbi Dixon. "It's very rewarding to see the impact we have on the lives of those we are helping. I am blessed to work for a corporation that supports those who need a little help in our local communities."
To learn more about Habitat for Humanity, visit http://www.habitat.org
About Foundation Financial Group
Foundation Financial Group is a multibillion dollar financial services corporation. FFG offers its customers Best in Class service through its Insurance, Retirement, Mortgage, and Tax Services. Named one of the fastest growing financial companies in the country by INC magazine, FFG has continued to grow its nationwide presence with over 100,000 new customers per year in 39 states. In addition to the value that Foundation Financial provides every customer, it is also dedicated to its communities and the people who live in them. Through a vast array of philanthropic endeavors the company not only provides significant monetary donations but also fosters a workforce environment that encourages all team members to personally make a difference. Foundation Financial is committed to its strong focus on customer service and community investment as it continues to grow and compete with the largest financial institutions in the world.
Foundation Financial Group reviews all public relations inquiries. For additional information, interview and image requests, contact the Foundation Financial Group Public Relations team.