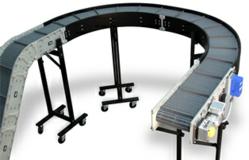 Recently, the lid came off a bottle of syrup, but we were able to wash it down easily.
Muskegon, MI (PRWEB) November 06, 2012
Although the holidays bring a slight increase in distribution at the Regional Food Bank of Oklahoma, one of the top five food banks in the U.S., Bill McKnight, Director of Operations reminds that hunger is not seasonal thing and people aren't hungrier in November than they are in July. To keep up with steady demand the nonprofit food rescue, which provides 42 million pounds of food to 500 affiliated agencies, and over 1000 programs in the 53 central and western counties of Oklahoma, uses DynaCon modular conveyor systems to streamline productivity and operate like a commercial food distribution center.
Prior to using reconfigurable conveyor technology from Dynamic Conveyor Corp., two to three truckloads of donated food products per week took three days to sort manually. "We wanted to find a more efficient, safe, and clean manner to sort the product," says Bill McKnight, Director of Operations at Regional Food Bank of Oklahoma, whose expertise hails from the wholesale grocery industry. Now, he says, "sorting takes us six hours tops using the DynaCon conveyor."
Dynamic Conveyor Corp. offers nine types of conveyor systems that are sustainable and eco-friendly by reducing, reconfiguring and reusing. The lightweight impact-resistant polycarbonate modules of the DynaCon line include plastic link style belting that never needs to be entirely replaced and utilize the most energy efficient maintenance-free motors, which range from 1/30 HP to 1 HP, and cost just pennies a day to operate. Lowering the kilowatts used not only saves money, but also reduces carbon emissions during the making of electricity.
Dedicated to a safe and clean environment, ease of cleaning the conveyor systems was of great importance to the food bank which is currently pursuing AIB and ASI accreditations. "The problem with most conveyors is dealing with the clean up," McKnight explains.
Dynamic Conveyor's reconfigurable conveyor technology, and its line of DynaClean food conveyors manufactured with NSF, FDA and USDA approved materials, simplify the cleaning process, requiring less than half the time for clean up than traditional conveyor systems.
For the food banks needs, Dynamic Conveyor suggested a maintenance-free wash down drum motor that is totally enclosed for easy cleaning. McKnight says the once a month PM schedule includes separating the plug and play conveyor into two separate sections and moving them to another area with proper floor drainage for thorough cleaning. The ease of cleaning also makes spills a non-issue. "Recently, the lid came off a bottle of syrup, but we were able to wash it down easily," says McKnight.
In addition to the dual J-shaped modular conveyors that combine to create an oval for sorting, the food bank also employs an additional DynaCon Z-style incline conveyor to help package weekend supplemental kits for children. The modular conveyors, purchased with a portion of a $100,000 grant, has increased throughput of the kits over 40 percent.
"We run very lean, and the DynaCon is a big part of that," says McKnight. "We recently had a donor visit the facility and he said, 'you handle it just as well if not better than I do.' It's a very modern food warehouse."
To learn more about Dynamic Conveyor's reconfigurable conveyor technology, an incline conveyor, 45, 90 or 180-degree radius turn modules, or the DynaClean line of conveyor systems, visit or contact the company at 5980 Grand Haven Road, Muskegon, MI 49441; phone (800) 640-6850; fax (231) 798-9583; http://www.DynamicConveyor.com.