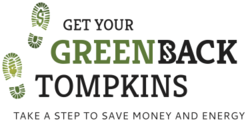 Phelps, NY (PRWEB) November 12, 2012
Halco Plumbing & Heating is now recognized as one of the few trusted BPI (Building Performance Institute) Certified companies assisting locals participating in the Get Your GreenBack Tomkins campaign.
Get Your GreenBack Tompkins is a community campaign aiming to ignite every Tomkins County business and household to save energy. The energy saving initiative is being tracked through the "steps" taken and described on the campaign's website. Whether a company or resident has saved energy through food, waste, transportation, heating or lighting, the website displays the tallies of steps taken.
Hal Smith's Halco Plumbing & Heating Company is one of the companies helping businesses and residents to equip their buildings and homes for energy efficiency. Halco proudly offers high-efficiency heating and cooling systems, home energy audits and whole house improvements such as installing insulation, air sealing and clean renewable energy systems. They are dedicated to quality work, sustainability, innovation and providing extraordinary service to their clients.
"We are very proud to be associated with Get your GreenBack Tompkins. This organization is as passionate as Halco is, in helping homeowners to improve the energy efficiency, comfort and safety of their homes," said Smith.
Whether a resident or business is thinking of taking small or large steps to save energy, the experts at Halco are highly trained and certified through leading programs in their fields. They will provide efficient and affordable solutions for all of energy saving needs. Emergency service is also provided 24/7.
The home energy conservation professionals at Halco Heating will provide a free estimate on home insulation, solar, and heating and cooling systems and repairs. Contact them today!