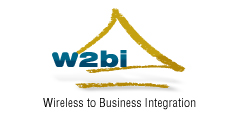 w2bi is excited to be working with Gemalto to support such an innovative and compact solution for UICC/SIM that increases the manageability of new service deployment for LTE operations in global markets
South Plainfield, NJ (PRWEB) November 08, 2012
w2bi, Inc. announced today that the company has entered into a joint effort with Gemalto, the world leader in digital security, to globally distribute and provide device UICC test automation for the 4G Long Term Evolution (LTE) networks. Gemalto's LinqUs OTA Simulator in combination with w2bi's QUIKPROBE™ test platform addresses the specific certification needs for mobile operators, device and chip manufacturers, operating system providers, and independent labs.
The scope of the UICC/SIM test automation covers operator specific test needs and combines such elements as LTE network emulation, Gemalto LinqUs OTA Simulator, IMS server, and automated device control into a single automated testing system under w2bi's QUIKPROBE™ test automation platform. This collaboration builds on the strengths of the two companies and integrates leading UICC test software from Gemalto with proven w2bi test automation products presenting test engineers a convenient and friendly user interface to a multi-instrument test environment.
"w2bi is excited to be working with Gemalto to support such an innovative and compact solution for UICC/SIM that increases the manageability of new service deployment for LTE operations in global markets", said Derek DiPerna, CEO and President of w2bi, Inc.
About w2bi, Inc.
w2bi, Inc. headquartered in New Jersey, develops innovative automated test software for the wireless communications industry. w2bi products improve certification time-to-market, assist to increase the quality of mobile devices, and ultimately reduce return rates. w2bi's automation includes such product platforms as QUIKPROBE™, Q-DAAT™, Q-GENERIC®, QUIKTOUCH™, QUIKSTRESS™ as well as custom R&D products for automated device testing. Since 1997 w2bi has been deploying systems globally addressing the needs of mobile operators, device makers, operating system providers, and application providers.For more information about w2bi, Inc. visit http://www.w2bi.com.
w2bi Media Contact:
Vadim Elkin, Director Major Accounts
1001 Durham Ave
South Plainfield, NJ 07080, USA
Tel: +1-908-688-1700
Email: velkin(at)w2bi(dot)com
About Gemalto
Gemalto is the world leader in digital security with 2011 annual revenues of €2 billion and more than 10,000 employees operating out of 74 offices and 14 Research & Development centers, located in 43 countries. Gemalto is at the heart of the rapidly evolving digital society. Billions of people worldwide increasingly want the freedom to communicate, travel, shop, bank, entertain and work – anytime, everywhere – in ways that are enjoyable and safe. Gemalto delivers on their expanding needs for personal mobile services, payment security, authenticated cloud access, identity and privacy protection, eHealthcare and eGovernment efficiency, convenient ticketing and dependable machine-to-machine (M2M) applications. Gemalto develops secure embedded software and secure products which we design and personalize. Our platforms and services manage these secure products, the confidential data they contain and the trusted end-user services they enable. Our innovations offer more ways for our clients to enhance the convenience and security of people's digital lives. Gemalto thrives with the growing number of people using its solutions to interact with the digital and wireless world.
For more information visit http://www.gemalto.com, http://www.justaskgemalto.com, blog.gemalto.com, or follow @gemalto on Twitter.
Gemalto Media Contacts:
Nicole Smith
North America
+1 512 758 8921
nicole.smith(at)gemalto(dot)com
Kristel Teyras
Europe, Middle East & Africa
+33 1 55 01 57 89
kristel.teyras(at)gemalto(dot)com
Ernesto Haikewitsch
Latin America
+55 11 51 05 92 20
ernesto.haikewitsch(at)gemalto(dot)com
Yvonne Lim
Asia Pacific
+65 6317 3730
yvonne.lim(at)gemalto(dot)com