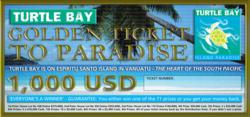 NEVER IN THE HISTORY OF PRIZE RAFFLES HAS THERE BEEN A PRIZE DRAW LIKE THIS...
WHERE EVERYONE IS A WINNER!
TURTLE BAY VANUATU (PRWEB UK) 26 November 2012
EDC Capital Vanuatu launch an innovative promotion with their "Golden Ticket to paradise":
A world first, with a unique prize draw raffle where it would appear... everyone is a winner.
According to the organizers, no one can lose with this unique money back "Golden Ticket" prize draw...
Dreamed up by the marketing division of EDC Capital who insist that any one who plays will be sure of a return.
Simply put..all ticket holders will either win …or get the ticket money ($1000.00) returned.
There is a guaranteed "no loss clause", in the unique Turtle Bay prize draw raffle:
It appears that absolutely everyone who takes part can be 100% sure they will not lose out.
What is the catch you may ask? Well apparently there is none.
It is all part of this innovative Marketing Plan from EDC Capital who are developing the island.
A spokesperson said : "The figures have all been worked out and it makes sold financial sense for EDC to take this approach and promote the Turtle Bay real estate project in this way...
This strategy makes great sense for EDC and it is also great news for ticket holders"
In case you didn't know... Vanuatu is located between Fiji and Australia.
Twice voted "The happiest place on earth" by the happy planet index, it truly is a tropical island paradise. with some of the best diving sites in the world.
Anyone who enters may yet live the dream, as part of a luxury holiday/residential development in Turtle Bay, on Espiritu Santo, Vanuatu.
http://www.youtube.com/watch?v=BH1IC2ZtS00&feature=youtu.be
There are a total of 2,499 tickets in this unique no loss raffle. 71 of them will win a prize...and may even be one of the (3) three amazing house/ land packages; or indeed any one of a number of meaningful cash prizes.
For all the details on the how /when/ why... and the chance to take part: