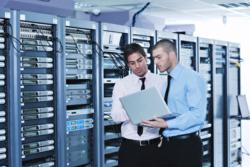 We're pleased to welcome Paul to our staff - he's one more person you can count on when you need Pantek's expert 24/7 Tech Support.
Independence, Ohio (PRWEB) November 06, 2012
Pantek Incorporated has hired Paul Schneider as a Senior Systems Engineer. Paul brings with him over 20 years of technical expertise in computer and network systems, with a special emphasis on information security. He has developed his skills at institutions such as Case Western Reserve University, where he planned, organized, implemented, and supported numerous large projects, build-outs, and deployments, as well as mentoring students, staff, and faculty in various capabilities. Paul is an alumnus of Case Western, where he earned his bachelor's degree in Computer Science.
Paul's breadth of experience with a wide variety of Open Source applications, Linux operating systems and IT security will be a great addition to the Pantek team. His enthusiasm for success and interest in people and technology are highly valued traits at Pantek.
He enjoys conferences, and is a co-founder and lead organizer of Notacon. This annual conference in Cleveland, Ohio, encourages participants to think about technology in new and innovative ways. Currently in its tenth year, Notacon challenges attendees with an ethos of do-it-yourself, innovation and participation. Topics range from traditional information security to music, digital art and electronics.
Paul lives with his wife, Jodie, and two year old daughter, Alexa, in Cleveland. In his spare time, he enjoys producing music, travel, camping, and amateur radio.
About Pantek Incorporated:
Pantek is the leader in Open Source technology technical support and software implementations.
Founded in 1995, Pantek provides comprehensive IT services to companies using Linux and Open Source technologies. Their clients value them as their partner and as a seamless extension of their IT staff. The Pantek Team has years of industry experience, matching Open Source technologies to customer business needs to provide a competitive advantage.
For more information, please visit: http://www.pantek.com or call 216-344-1614.