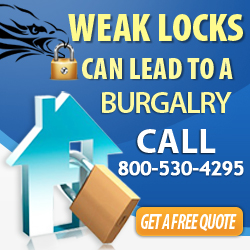 Low quality locks can lead to a breech in security at home or your business.
Cincinnati, OH (PRWEB) November 15, 2012
With the economy the way it is crime is on the rise and people are looking for ways to protect their home and business. People have also been trying to find companies that help America by selling American made products. Hawk Locksmith, a Seattle, Washington based locksmith company announced they will only use American made locks and locksmith products.
Hawk Locksmith is a company that services a 50 mile radius around the city. Their locksmith services include residential, commercial, industrial, and automotive. They use a wide range of American made products to suit all budgets and needs, from high tech security to basic lock and key.
While their competitors are trying to make more money by going with low quality products from other countries, Hawk Locksmith has stated that they will not use inferior products to make money off the American public. (Which personally I think is very commendable.)
The owner of Hawk Locksmith, Albert Abramov stated, "Locks and locksmith products from other countries are very poorly made and the majority of the cost of the product is in the shipping. When using these low quality locks, your home and business's security is in jeopardy because they are easy to pick and break into. With our economy the way it is crime rates are on the rise and there is no way I would compromise the safety and security of my customers by using these products. So why not spend a couple extra dollars and get an American made product that is better quality and is going to keep your family and business safer and more secure. Also by doing this you are going to help to keep someone in a job which makes our economy stronger. To me it's a no-brainer."
For more information about Hawk Locksmith, or their services and products visit http://www.HawkLocksmith.com or their Facebook page http://www.facebook.com/pages/Hawk-Locksmith-24-7/182380973124. For security tip visit http://www.hawklocksmith.com/blog/
# # #