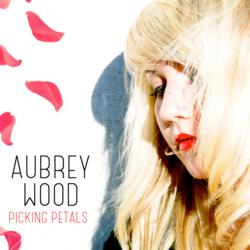 "Gia brought a certain magic to these compositions that infused great energy and should connect with both current fans and new listeners"- Aubrey Wood
Los Angeles, CA (PRWEB) November 13, 2012
Aubrey Wood is an eighteen-year-old singer/songwriter from West Hartford, Connecticut now living full time in Los Angeles, California. Her new EP release, "Picking Petals" is available for purchase starting today at iTunes and other popular online music stores. "Picking Petals" is Aubrey's follow up to her successful self-titled 2010 debut, and features the current single, "Love Sick", already a frequently sampled music video on YouTube.
The five new, original tracks on "Picking Petals", all written and performed by Aubrey, are an artistic departure from the first EP. With an upbeat flair that chronicle stories from Aubrey's own life, the tracks feature lively production from up and coming producer, Gia Sky. Gia also performs and contributes on guitars, keyboards and a wealth of fresh innovative sounds.  "Gia brought a certain magic to these compositions that infused great energy and should connect with both current fans and new listeners", said Aubrey.
Each composition on "Picking Petals" is a chapter outlining an emotional moment and an associated poignant lesson. "There is no greater source of material for storytelling than the challenges and difficult decisions that line the path toward adulthood", said Aubrey.
In 2010, Aubrey released her first EP titled "Aubrey Wood" with all the music written and performed by Aubrey on vocals and acoustic guitar. A strong assembly of contributing performers included K.C. Porter, J.B. Eckl, and Paul Gonzales. Aubrey's EP gained a broad following with hundreds of thousands of track plays online and a growing base of listeners on several music streaming sites.  Her popular single, "Heart", has been a consistent presence at the top of the charts on MTV's OurStage with the music video for the single reaching number one twice during 2012 and logging nearly 50,000 plays on YouTube.
In 2011, Aubrey was honored to create and dedicate the theme song for the rapidly expanding non-profit organization, Unified Theater™. "Fly", was written and performed by Aubrey with the stellar support of Bella Blue and Trevor Jackson (From Disney's "Let It Shine") on background vocals.  Unified Theater puts a spotlight on ability by creating student-led theater groups that let young people with and without disabilities shine! 
More detail on Aubrey, upcoming performances, and today's music release can be found at http://www.aubreywood.com
LYRICS, MUSIC AND VOCALS: Aubrey Wood
PRODUCTION AND ARRANGEMENT: Gia Sky
GUITARS : Aubrey Wood and Gia Sky
KEYBOARDS AND PERCUSSION: Gia Sky
EXECUTIVE PRODUCERS: Hushpuppy, Andreas Laemmermann
RECORDING: Gia Sky at Hold Serve Studios
MIXING: Jon Rezin
MASTERING: Chris Athens