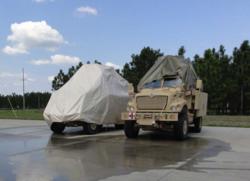 Our patented technologies provide affordable, long-term anti-corrosion protection to keep the U.S. Military's fleet assets ready for quick deployment.
Elkhart, Indiana (PRWEB) November 20, 2012
Transhield, Inc. announced today that the company was awarded a contract to supply 120 protective covers for MaxxPro Mine Resistant Ambush Protected (MRAP) vehicles. The covers were purchased by U.S. Army Strategic Logistics Activity Charleston (ASLAC) to maintain readiness for MRAPs being placed into prepositioned stocks.
The purchase follows extensive evaluation by the ASLAC of Transhield's protective covers on site and their ability to reduce environmental degradation of the vehicles while in storage. They will replace vinyl and canvas tarps, which do not provide the environmental and corrosion protection properties of Transhield covers.
"We are very pleased to have the opportunity to help protect the MRAP assets of the U.S. Army. This contract is particularly meaningful because it follows on-site evaluation of our patented technology. It further validates the ability of Transhield vehicle covers to provide affordable, long-term anti-corrosion protection to keep the U.S. Military's fleet assets ready for quick deployment when needed," said James Glick, Transhield's president.
Transhield has received two contracts in the past six months to supply MRAP covers to the U.S. Military. In addition to this order, the U.S. Marine Corps will be using them to protect their entire fleet of MRAPs.
All Transhield's protective covers are tested using ASTM standards for breathability, ultraviolet blockage, tensile strength, and yield strength. They are lightweight, 100-percent waterproof and provide years of use. All Transhield military vehicle covers incorporate Vapor Corrosion Inhibitor and offer protection against environmental factors including corrosion, dust, wind, rain, snow and UV rays.
Transhield protective covers are available on the GSA Federal Supply Schedule under contact number GS-02F-0103R.
About Transhield, Inc.
Transhield, Inc. is the leading manufacturer of a broad range of protective covers for use in the defense, aerospace, marine, rail and other industrial markets. Transhield products are valued worldwide for their high quality, patented corrosion reduction technology, and customized fit to help protect equipment investments. The company produces more than 120,000 covers annually and has been a supplier to the U.S. Military since 2001. Transhield is a small business headquartered in Elkhart, Ind., and has approximately 30 employees. For more information, visit
http://www.transhield-usa.com. Also find Transhield on Facebook, Twitter and YouTube.
###