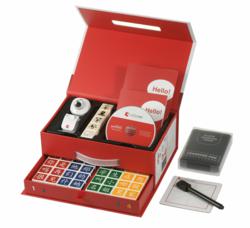 Anyone interested in learning Chinese no longer needs to be intimidated by the thousands of characters in the language.
New York, NY (PRWEB) November 15, 2012
ChineseCUBES is displaying its entertaining and effective learning program suited for learning Chinese in the 21st century at the American Council on the Teaching of Foreign Languages (ACTFL) Annual Convention and World Languages Expo, which brings together thousands of teachers, administrators, method instructors and students of foreign languages at all levels from across the world. ChineseCUBES will be on display and available for sale at booth No. 827 for the duration of the convention.
On November 17th, ChineseCUBES will be hosting a workshop titled "Play, Practice, and Produce with ChineseCUBES" in Exhibit Halls D&E from 9 am to 9:50 am. The workshop is designed to show teachers how to teach Chinese in a new and interactive way in their classroom.
Utilizing a new concept, new approach, and Augmented Reality (AR) technology, ChineseCUBES creates a never-before-seen multisensory learning experience that makes learning Chinese fun and easy. Anyone interested in learning Chinese no longer needs to be intimidated by the thousands of characters in the language. With only 200 characters to begin with, ChineseCUBES aims to provide learners with a basic yet strong foundation in the language. It was designed for beginners of all ages, and is especially great for anyone who wants to learn but has no previous background in the language.
ChineseCUBES breaks through the limitations of traditional Chinese language learning materials by implementing a "character - phrase - sentence" spiral learning methodology. Instead of learning Chinese as if it were a phonetic language, ChineseCUBES teaches learners the Chinese characters authentically, one character at a time. As learners master more individual characters, ChineseCUBES allows them to combine these characters to form new meaningful phrases and sentences.
This methodology was made possible by utilizing the AR technology, which allows computer-generated content to be superimposed onto a real world environment. By turning each abstract character into a tactile cube, AR technology makes each character cube come to life on the computer screen. The program teaches how to read, write, speak and use each character. Learners can then arrange and play with the cubes in an interactive manner that allows them to naturally grasp Chinese grammar and language in a game-like fashion.
ABOUT CHINESE CUBES
Conceptualized in 2009 and founded in 2010 by devoted publisher Rex How, ChineseCUBES started as a challenge, and later a mission, to improve and revolutionize Chinese language education around the world. While observing the increasing demand for learning the Chinese language globally, Mr. How found that the learning materials currently available were lacking and dull. He was determined to find a much easier and effective way to learn the language, and that was how the ChineseCUBES concept was born.
Now headquartered in Taipei and with offices in New York and Beijing, ChineseCUBES consists of a diverse team of language experts and learners, technology fanatics, designers, culture enthusiasts and educational advocates. Its mission is to deliver innovative and entertaining products, programs and services that would inspire and encourage the learning and understanding of Chinese language, lifestyle and culture.
# # #
NOTE TO EDITORS
A digital copy of this press release, including photos of Mr. Rex How and the ChineseCUBES products, is attached for your convenience. All are also available online at http://www.chinesecubes.com