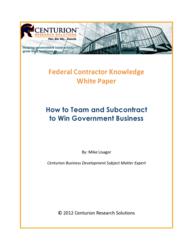 "This new white paper is part of our ongoing commitment to help our government contractor clients get their fair share of awarded federal contracts." -- Gary Loyd, CEO
Chantilly, Virginia (PRWEB) November 07, 2012
Gary Loyd, Centurion Research Solutions CEO, announced the release of a new Federal Contractor Knowledge white paper entitled "How to Team and Subcontract to Win Government Business." The paper tackles one of the most difficult challenges faced by government contractors seeking to grow their business or by small businesses just entering the federal market.
Too few subcontractors get their fair share of an awarded contract and not enough of them deliver on their proposal or project commitments. The paper is relevant for businesses who want to join a team or prime contractors looking for teammates.
Topics covered include:

Teaming strategies
Small business requirements
Mentor-protege programs
Full and open competitions
Teaming partners
Teaming agreements
Subcontracts including negotiations
About Centurion
Centurion Research Solutions, founded in 2003, is a business intelligence and analytics company with a simple mission: offer innovative solutions that help federal contractors efficiently win more government business. To achieve this mission, Centurion has been providing online, subscription-based services, custom research and analysis, tools and methodologies, professional services and in-depth training. Industry leaders such as Alion, Northrop Grumman, SAIC, Lockheed Martin, BAE Systems, InDyne, CACI and Raytheon rely on Centurion's solutions, thought-leadership and expertise to help them identify and analyze relevant opportunities to win more government contracts.