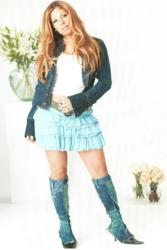 "Brenda is a true inspiration for many up and coming artists. She commands the stage with lots of energy," says Ruben Martinez
Port St. Lucie, FL (PRWEB) November 06, 2012
When you think of soulful pop voices of the late 80's, Brenda K. Starr is one on top of radio stations and DJ's lists. Brenda's hits include the Grammy Award-nominated and #1 pop ballad; "I Still Believe," and the club/dance smash, "What You See is What You Get." "I Still Believe" became one of the top ballads of the late 80's placing Brenda on several Billboard charts. The song was later re-recorded and turned into another chart-topping hit, once more, by one of Brenda's former back-up singers turned international superstar, Mariah Carey. As a matter of fact, at the same time that Carey was working as a vocalist for her, Brenda was developing quite a name for herself in both the Pop and Salsa musical worlds. Mariah Carey paid homage to her, acknowledging Brenda as one of her mentors on the mega-selling video, Mariah Carey: Around The World.
Brenda has also been internationally recognized as a leader in the Latin music explosion for many years, earning her the title, "La Diva de Salsa." Her first Spanish album release, "Te Sigo Esperando", was certificated Gold by the RIAA. It was followed by four more Spanish albums, entitled "No Lo Voy A Olvidar", "Petalos de Fuego", the critically-acclaimed, "Temptation" and "Atrevete a Olvidarme" which fittingly translated to: "I Dare You to Forget Me." In 2002, the Temptation album garnered two Latin Billboard Awards: Hot Latin Track of the Year-Vocal Duo and Tropical /Salsa Airplay Track of the Year-Female. Standouts have included her collaborations with internationally acclaimed crooners like Victor Manuelle and Tito Nieves.
"Nene Musik and Its team is excited to be working with Brenda again. Brenda is a true inspiration for many up and coming artists. She commands the stage with lots of energy. Our clients are already requesting dates for her next tour," says Ruben Martinez (Chairman & CEO of Nene Musik). Nene Musik will also assist Brenda in working with new producers for a 2013 release.
About Nene Musik Productions, Llc.
Nene Musik Productions, Llc. (http://www.nenemusik.com) was established in 1989. Today, It is a boutique Artist Management and Consulting Agency that services Recording Artists, International DJ's and celebrities that have been misrepresented by others in their past. Dennis Rodman, Cascada, Mia Martina and Tora from X Factor are just of few on Nene Musik's Client Roster. Nene Musik's experience and commitment to excellence have earned them the reputation as one of the best Artist Management / Consulting companies in the World.