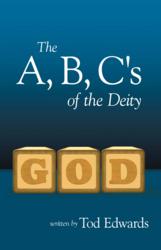 Belief is thought; thought is energy. Wherever your thoughts go your energy flows. Energy then becomes your reality. If you believe in a thought, your energy flows in your beliefs and they become your reality.
Chicago, Illinois (PRWEB) November 27, 2012
The ABC's of the Deity is the 1st literary work written by 1st time author Tod Edwards. The book is a culmination of biblical research, related studies and noteworthy world history events coupled with inspired thoughts, personal perspectives and real life experiences that are all rolled-up together and separated into 26 Godly points to ponder. One chapter will analyze and poeticize Mercy:
"John Q Public, fortysomething, unemployed, 401K destroyed. Now living in a paper box; no thoughts of detox. Father of two without hope; husband of another called dope, John on the street begging for cash; you pretend he has a contagious rash that's in need of an Army mash, as you trot an unacknowledged dash and splash his palms with nothing!"
The book, published by acclaimed religious publisher WestBow Press, seeks to thoroughly study the true nature of God via the alphabet. The layout provides the reader with a structured format that will feature an important biblical word (the topic), a Bible verse that illustrates the word in action, a synopsis of a related scriptural passage, and the author's interpretation of the topic. It will appeal to those who do not have much time for an exhaustive study but require a concise, yet simplistic understanding of righteous living. Another chapter will examine money:
"Money has been identified by the confused as the panacea to solve all problems. To be fair, it does have a tendency to untangle the cord or quality living. Money will plump many intrinsic values on your table. The ability to make and pay bills without stress is highly desired by all. But to position the moolah at the top of your leaderboard of faith may topple your health."
Tod is a Christian, husband, father, inventor, volunteer, and entrepreneur. A native Carolinian but currently resides in Chicago, IL (1317 W Taylor, 60607 for mail inquiries). An accountant by trade, Tod applied his attention-to-detail characteristic to a study of Christianity and other religions of the world.
A free book for review is available per availability. Call 312.203.2907 for an in-depth interview.