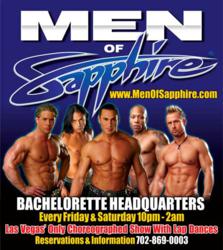 Bachelorette Party Headquarters in Sin City
(PRWEB) November 05, 2012
Sapphire, The World's Largest Gentlemen's Club, announces that the acclaimed Men of Sapphire male review, "Bachelorette Party Headquarters in Sin City", has launched their new website, MenOfSapphire.com.
The site features information about the show and displays galleries and intimate details about each performer as well. There is also information about Sapphire Pole Dance Classes/Parties which are now available every day of the week.
Sapphire Pole Dance Classes offer ladies the once in a lifetime chance to swing around the pole like a real exotic dancer and learn the hottest, sexiest pole dance moves and chair routines to the sensual pulse of today's hottest hit music taught by professional exotic dance instructors.
These classes are designed for women of all ages, shapes and sizes. Ladies learn everything from basic pole dancing moves to more advanced pole dancing moves and routines as they progress through the classes.
The new website also makes it easy for women to make their party reservations using a simple Paypal process. The Men of Sapphire have thought of everything.
For the past 6 years this heart-throbbing manfest has performed their brand of hot, action-packed entertainment every Friday and Saturday night, enchanting hundreds of enthusiastic women from 10pm until 1am. Ladies enjoy their favorite cocktail with a roomful of incredibly hot guys with bodies like Gerard Butler in "300" who are there to entertain them and make it a night they won't soon forget.
The Men of Sapphire always have quite an evening planned in their ladies-only showroom. Ladies are advised to leave all inhibitions at the door as they are escorted in by their host and each group is photographed with a few of the men to document the occasion before being led to plush VIP seating. Ladies enjoy the male eye candy as each performer takes his turn on stage.
If you're looking for a high-energy party with so much more than the usual male strippers, then this is the place to be. The evening includes a variety of international accents and hard bodies providing stunning, choreographed stage performances as well as personal one on one entertainment.
Expect a lot of crowd interaction because ladies are encouraged to not only see the show but to be the show as they get called up on stage for an impromptu up-close-and-personal performance.
Dreams of an up close encounter with handsome, strong men come true at Men of Sapphire. Submit a piece of paper to the DJ volunteering the bachelorette, birthday girl or best friend for a stage dance for a little extra cash and memorable entertainment. Ladies are also encouraged to crowd around the stage where the hot hunks will give them a little extra attention — for a dollar.
When Men of Sapphire concludes, do not expect to be notified. The spectacular show rolls right into nonstop private lap dances by the performers, stage dances and plenty of men walking around. And ladies, these boys can go all night long.
If you're celebrating a birthday, a bachelorette party or just want to have some naughty fun, grab the girls and head to Men of Sapphire because every night with these hunks is special.
Experience the Men of Sapphire every Friday and Saturday night at the World's Largest Gentlemen's Club at Sapphire, located at 3025 S. Industrial Road in Las Vegas, with 70,000 square feet of topless entertainment. Get to the club early or reserve your table today. Local ladies always enjoy admission for only $10. Out-of-town guest admitted $40 on Fridays and Saturdays. Sapphire is open 24/7, 365 days a year to patrons 21 and over, Sapphire serves the finest variety of cocktails, wines, champagne and cigars.
Men of Sapphire has something that will appeal to every woman's fantasy and imagination. Our VIP Packages make it easy and affordable and our VIP Hosts handle all the details. All packages include complimentary, luxury transportation for your entire party to Sapphire from the Strip hotels. Packages can be purchased online at http://www.MenOfSapphire.com. For more information call 702-869-0003. And for special offers and updates follow Men of Sapphire on twitter @menofsapphire.