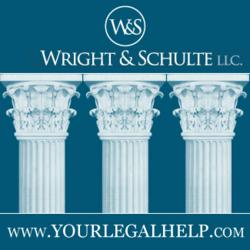 Wright & Schulte LLC, is dedicated to helping those injured by Skechers Shape-Ups receive the compensation they deserve. Call 800-399-0795 or visit www.yourlegalhelp.com today for a FREE consultation!
Vandalia, OH (PRWEB) November 16, 2012
The premier nationwide law firm, Wright & Schulte LLC, and leading Ohio personal injury firm, has filed a Skechers lawsuit against in the United States District Court of the Western District of Kentucky, Louisville Division (MDL 2308). Filed on September 28, 2012, this case (Case 3:12-cv-00617-TBR) was filed on behalf of an Illinois woman who alleges that regular use of Skechers Shape-Ups caused her severe hip pain, misalignment of her hips and the need for long-term physical therapy. Court documents filed to initiate this Skechers lawsuit name Skechers, U.S.A., Inc., Skechers, U.S.A., Inc., II and Skechers Fitness Group, which are all based in Manhattan Beach, California, as the Defendants.
Wright & Schulte, LLC is a nationally recognized law firm that specializes in defending the rights of those who have sustained serious injuries after using defective products. Our skilled skechers injury lawyers are experienced at successfully going up against large corporations, and we encourage those who believe they have been injured due to use of Skechers toning shoes to speak with our knowledgeable Skechers attorneys by visiting yourlegalhelp.com or by calling 1-800-399-0795.
According to the complaint, the Plaintiff, a woman from Olympia Fields, Illinois, bought a pair of Skechers Shape-Up shoes in or about May 2010 after seeing many advertisements that extolled the various health benefits that could be achieved by regular use of these shoes. In addition to claiming that wearing Skechers should improve posture, enhance heart health and firm the buttocks, leg and abdominal muscles, Skechers ads purported that Shape-Ups and other lines of their toning shoes could help consumers lose weight and get in shape without having to go to the gym.
For the first two or so weeks after purchasing Skechers Shape-Ups, the Plaintiff wore them for the prescribed 25 to 45 minutes daily; subsequently, she began wearing these shoes for longer periods of time while performing her day-to-day activities. Approximately 5 months after buying and wearing Skechers Shape-Ups, court documents allege that, in October 2010, the Plaintiff began experiencing severely excruciating pain in her pelvis and left leg; as a result, she visited her family doctor, Dr. Michael Ward, in Illinois. Dr. Ward referred the Plaintiff to physical therapy at Advocate South Suburban Hospital in Hazen Crest, Illinois, where she was informed that her pelvis was out of alignment, which was causing her pelvic and leg pain. In an effort to treat this injury and relieve her pain, the Plaintiff attended physical therapy at the hospital twice a week until approximately February 2011.
While this Skechers lawsuit (Case 3:12-cv-00617-TBR) alleges that use of Shape-Ups was the primary cause of the Plaintiff's injuries, it also accused Skechers of failing to conduct safety testing on its toning shoes and knowing that these shoes – which are designed with "rocker" bottoms to increase instability – could increase the risk of serious injuries to users. Additionally, court documents state that Skechers intentionally over-represented the health benefits of its toning shoes in advertising while failing to warn the public regarding the risk of injuries associated with this footwear.
Among the evidence that the complaint cites against the Defendants are reports filed with the Consumer Product Safety Commission's database, which has received more reports of injuries or complaints associated with Skechers toning shoes than it has with any other product in its database (as of May 2011, http://news.consumerreports.org/safety/2011/05/are-toning-shoes-unsafe-reports-of-injuries-raise-concern.html)
Additionally, court documents cite the results of an independent study conducted by the American Council on  Exercise (ACE) at the University of Wisconsin to examine the possible benefits of toning shoes. In its conclusion to this research, ACE stated that, "there is simply no evidence to support the claims that these shoes will help wearers exercise more intensely, burn more calories or improve muscle strength and tone." (http://www.acefitness.org/getfit/studies/toningshoes072010.pdf)
While this Skechers lawsuit represents one of the latest filed by Wright & Schulte, LLC, many similar Skechers lawsuits have been filed by consumers throughout the U.S. who suffered serious injuries allegedly due to Skechers toning shoes.
About Wright & Schulte LLC
Wright & Schulte LLC, a leading personal injury firm, is dedicated to the belief that America's legal system should work for the people. Every day, the attorneys of Wright & Schulte LLC stand up for the rights of people who have been injured or wronged and fight tirelessly to ensure that even the world's most powerful corporations take responsibility for their actions. If you're looking for a law firm that will guarantee the aggressive and personal representation you deserve, please do not hesitate to contact Wright & Schulte LLC today. Free case evaluations are available through yourlegalhelp.com or by calling 1-800-399-0795.
Contact:
Wright & Schulte LLC
812 East National Road
Vandalia, Ohio 45377
1-800-399-0795
http://www.yourlegalhelp.com