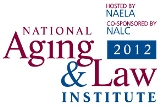 Washington, DC (PRWEB) November 05, 2012
The National Academy of Elder Law Attorneys (NAELA) and the National Aging and Law Conference (NALC) will co-host the 2012 National Aging and Law Institute in Washington, D.C. from November 8-10, 2012.
On Thursday afternoon, former congressmen Thomas Downey and Raymond J. McGrath; Nancy A. LeaMond, Executive Vice President for Social Impact, AARP; and David Wessel, economics editor for the Wall Street Journal, will present the keynote address, "The Post-Election Special Edition: How the Supreme Court Ruling on Health Care Reform and the Election Results Will Shape Health Care, the Budget, and Deficit Reduction." This nationally recognized panel of political and economic experts will discuss how the 2012 election results could change the political landscape and impact the future of the elderly and people with special needs.
On Friday morning, the Hon. Kathy Greenlee, Department of Health Human Services (HHS) Assistant Secretary on Aging; and Hubert H. "Skip" Humphrey III, Assistant Director of the Office of Older Americans at the Consumer Financial Protection Bureau (CFPB) will present "Elder Abuse and Exploitation: Policy Initiatives and a Lawyer's Role." This distinguished panel will explore public policy initiatives aimed at reducing elder abuse and financial exploitation and the important role that lawyers must play in prevention and intervention.
For the full schedule of events, see the Program Brochure.
The National Aging and Law Institute is hosted by NAELA and co-sponsored by the National Aging and Law Conference (NALC), a coalition formed by NAELA, the Center for Medicare Advocacy, the American Bar Association Commission on Law and Aging, the National Senior Citizens Law Center, the Center for Social Gerontology, the National Consumer Law Center, the AARP Foundation Litigation, and the National Association of States United for Aging and Disabilities. The event will provide an unparalleled opportunity to learn, network, and engage with leaders within the field of Elder and Special Needs Law.
Members of the media are invited to attend the National Aging and Law Institute. To arrange interviews with leaders from NAELA and NALC, or if you are interested in attending, please contact Communications Specialist Abby Matienzo at amatienzo (at) naela (dot) org or call 703-942-5711 #230.
About NAELA
Members of the National Academy of Elder Law Attorneys (NAELA) are attorneys who are experienced and trained in working with the legal problems of aging Americans and individuals of all ages with disabilities. Established in 1987, NAELA is a non-profit association that assists lawyers, bar organizations, and others. The mission of NAELA is to establish NAELA members as the premier providers of legal advocacy, guidance, and services to enhance the lives of people with special needs and people as they age. NAELA currently has members across the United States, Canada, Australia, and the United Kingdom. For more information, visit NAELA.org.
# # #