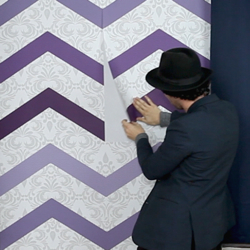 I recognized a need for fun home decor that was not only easy to use but that wouldn't damage the wall the way nails and wallpaper do.
Nashville, TN (PRWEB) November 19, 2012
"Be so good they can't ignore you" reads one of the favorite wall quotes by Nashville based vinyl wall art company Walls Need Love. This is something they have been striving for since their inception and now they are taking that mantra one step further. Earlier this year Walls Need Love introduced the perfect alternative to traditional wall coverings by creating a removable and reusable wallpaper. These 24"x48" tiles, made from an eco-friendly adhesive backed fabric they've dubbed "Fab-Tac," are repeating patterns that apply quickly and easily. Use one to accent a space or turn your entire wall into a floor to ceiling mosaic. Unlike traditional wallpaper however, these tiles wont damage your walls, don't require glue and are easy to reposition. So the next time you move or swap your decor you won't have to "fret over all the gunky stuff wallpaper leaves behind. It's the sticky without the icky. Just peel, stick, and get on with your latte" says founder Ali Abrahimia.
"I recognized a need for fun home decor that was not only easy to use but that wouldn't damage the wall the way nails and wallpaper do. Especially for those of us that rent our homes or apartments, it's not always feasible to put giant holes in walls that aren't even technically yours. I thought, 'Wall decals are the perfect solution to this. Couches aren't drilled to the floor, why should your art be drilled to your wall?" says Abrahimia who started Walls Need Love in 2008. The company has continued to expand since then, even recently launching a new kind of wall decal which they call "adhesive wall prints" which are exactly that: prints or photographs that can be easily applied time and time again without the hassle of frames. "After we launched the prints we thought, 'Well if we can decorate part of the wall like this, then why not decorate all of it!"
Their removable wallpaper is similar to more traditional wall decals in their application. Simply peel and stick your way to a chic and stylish new home. The tiles come in preloaded patterns designed by their in-house graphics guru Patrick Weber or P-Web as they call him and carry a price point based on quantity. "The more you buy, the more you save" says Abrahimia. "We understand that decorating can be expensive and nerve racking so we thought we'd make it as fun and affordable as possible. I mean seriously, who doesn't like playing with stickers? And giant life sized stickers at that! As a kid I always stuck the Chiquita banana stickers to my head after eating a banana. Now I can stick a wall decal larger than myself to the hallway or in my window." The tiles of removable wallpaper feature designs ranging from classic argyle and baroque patterns, to what looks like a subway map and even a collection of mustaches. "We want you to have fun with it!" Abrahimia laughs, "We do!" 
To make the removable wallpaper buying experience even more personalized Walls Need Love allows you to order your tiles in custom sizes and even upload your own patterns. Don't see the repeated pink lipstick or the rows of books you want in their selection of patterns already? It's not a problem. Just find your favorite and send it in, they can do the rest. "We work hard to make sure each customer gets exactly what they want. Your home is your refuge and we get that." And because the adhesive wall decal material is safe for the environment you wont have to worry about adding unnecessary chemicals to your home, reinforcing their idea that your home should be safe as well as stylish and inviting.
Walls Needs Love offers a large array of vinyl wall art including tree wall decals and nursery wall decals perfect for any home. Their products are environmentally friendly and easy to use. They are committed to bringing you the best wall art along with the best customer experience.