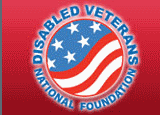 Washington, DC (PRWEB) November 06, 2012
The Disabled Veterans National Foundation(DVNF), a nonprofit organization that exists to help to men and women who come home with emotional and physical wounds after serving our country, is applauding and supporting a bipartisan bill that would provide faster disability payments to veterans injured in combat.
The Recovering Service Members Disability Benefits Act (HR 6445) would exempt active-duty, Reserve and National Guard service members injured in a combat zone from the customary five-month waiting period for Social Security Disability Insurance payments. Reps. Glenn Thompson (R-PA) and Dave Loebsack (D-IA) proposed the bill as an amendment to Title II of the Social Security Act.
Passage of the bill by Congress would benefit the most critically wounded veterans, those transitioning out of the military but too injured or ill to work.
"We applaud Representatives Thompson and Loebsack for passionately caring about the needs of wounded and disabled veterans," said Precilla Wilkewitz, President of DVNF, which joins numerous other veteran organizations such as the Veterans of Foreign Wars and Iraq and Afghanistan Veterans of America in supporting the measure.
"The brave men and women who have sacrificed on the front lines for our country shouldn't have to wait for financial help when they return home," added Wilkewitz. "These benefits are designated for their recovery, and Congress should do the honorable thing by making the payments available immediately so that these veterans can begin the road to healing."
The Recovering Service Members Disability Benefits Act does not expand eligibility for Social Security benefits or automatically approve individual requests, and all of the same protections used to prevent fraud and abuse of the program remain as defined under current law. The bill, as worded, provides that the waiting period for disability insurance benefits shall not be applicable in the case of a disabled service member recovering from an injury or illness incurred in a combat zone.
About Disabled Veterans National Foundation:
The Disabled Veterans National Foundation exists to change the lives of men and women who came home wounded or sick after serving our country. A nonprofit 501c3, DVNF was founded in the fall of 2007 by six women veterans to provide disabled men and women of the military with help obtaining housing, medical care, counseling and meaningful jobs. For more information, visit http://www.dvnf.org.