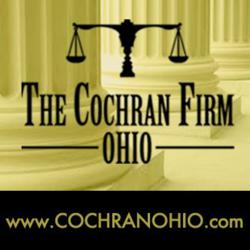 The Cochran Firm - Ohio, a leading full service, law firm handling injury cases throughout all of Ohio. For a FREE consultation call (513) 381-4878 or visit www.cochranohio.com
Cincinnati, OH (PRWEB) November 11, 2012
The Cochran Firm - Ohio, a leading full service, personal injury law firm and Ohio auto / car accident law firm with law offices in Cincinnati and Dayton, reminds all Ohio motorists that texting while driving was banned in the state in August 2012. In addition to prohibiting all drivers of any age from texting while driving, the Ohio law also bans the use of any electronic communication device by teens when they are behind the wheel, according to a recent report from The Cleveland Plain Dealer.[cleveland.com/metro/index.ssf/2012/06/ohio_gov_kasich_signs_ban_on_t.html]
Ohio is one of 39 states have laws on the books that specifically ban texting while driving, the Plain Dealer said. Under Ohio's law, texting while driving is a primary offense for any driver under 18. Teens convicted of violating the law face a fine up to $300 with the possible loss of their license for six months. Violating the texting ban is a secondary offense for adults, punishable by a $150 fine. As a secondary offence, police will need another reason, such as speeding, to stop and cite anyone over 18 for texting while driving.
According to the Ohio State Highway Patrol, 31,231 motor vehicle crashes were caused by distracted driving in Ohio between 2009 and 2011. These accidents resulted in 74 fatalities and 7,825 included injuries. While Ohio's texting ban will make the state's roads and highways safer, it still does not go far enough. As such, the Cochran Firm – Ohio continues to call on Ohio lawmakers to make texting while driving a primary offense for all motorists, regardless of age. The use of electronic devices while driving should also be banned for all motorists, regardless of age.[ statepatrol.ohio.gov/media/2012/12-056.html ]
The Cochran Firm – Ohio offers free legal consultations to victims of negligent accidents throughout Ohio, including car accidents and other highway accidents. If you or someone you love was injured because of another's negligence, it is vital you retain a skilled accident attorney to ensure your legal rights are protected. If you or a loved one are seeking personal, dedicated and aggressive legal representation in the wake of a motor vehicle crash or any other accident, please contact The Cochran Firm today by visiting cochranohio.com, or call (513) 381-HURT.
About The Cochran Firm - Ohio
The Cochran Firm - Ohio is a leading full service, personal injury law firm with offices in Cincinnati and Dayton and handles personal injury cases throughout all of Ohio. Founded over 40 years ago by famed attorney, Johnnie L. Cochran, Jr., The Cochran Firm - Ohio, has established itself as one of the premier personal injury law firms in the United States and has been recognized for delivering successful results to their clients across a broad range of claims stemming from car / auto accidents, personal injury, wrongful death, medical malpractice, nursing home abuse, premises liability, and product liability lawsuits. For over 40 years, The Cochran Firm - Ohio's team of highly experienced lawyers continually fight for justice for all its clients. If you've been injured call Ohio's leading full service law firm "The Cochran Firm - Ohio" today at 513-381-HURT.
Contact:
The Cochran Firm - Ohio
Call 513-381-HURT
The Cochran Firm – Cincinnati, Ohio
119 E. Court St. Suite 102
Cincinnati, OH 45202
Phone: 513-381-HURT
The Cochran Firm – Dayton, Ohio
130 West Second Street, Suite 1600
Dayton, Ohio 45402
Phone: 513-381-HURT