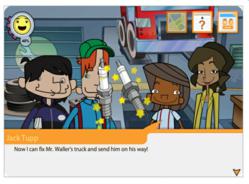 "We want to help younger students make sense of the great wide world beyond the classroom. We want to take away the mystery of adult life and work... what their parents' or guardians' do while they're at school."
Toronto, Ontario (PRWEB) November 14, 2012
Career Cruising is launching the youngest member of our guidance software family: ccSpark!. This comprehensive learning game introduces elementary students to age-appropriate life skills and career guidance information.
ccSpark! is designed for the kindergarten to grade five curriculum. It centers around a secure, online game that takes place in the whimsical digital community of Sparkdale. The goal is to keep the town of Sparkdale happy. Students advance the game by choosing questions and talking to characters, who present career information in a playful way. Sparkdale brings elements of the real world right into the classroom, helping students explore ideas of community and how everyone has a special role to play.
"Our goal for ccSpark! is simple," says Matt McQuillen, Career Cruising CEO. "We want to help younger students make sense of the great wide world beyond the classroom. We want to take away the mystery of adult life and work... what their parents' or guardians' do while they're at school."
Besides travelling through Sparkdale, ccSpark! also encourages students to begin their own journey of personal exploration with a virtual portfolio tool called My Profile. Here students can safely write about and store their reflections, ideas and experiences. In later school years, this My Profile information may follow students to their ccSpringboard account. Other features include follow-up activities for teachers in the classroom and discussion topics for parents at home.
"The world can be an intimidating place," says McQuillen. "The more kids understand how everything fits together and their place in the wider community, the more able they will be able to start building the kind of career confidence they need to think about the future. ccSpark! starts them on the right path for that future."
ccSpark! meets learning goals and competencies put forward by the National Career Development Guidelines, the American School Counselor Association in the US, and in Canada's Blueprint for Life career development guidelines. ccSpark! also brings together many design principles considered crucial to the development of successful educational games and instructional technology.
"ccSpark! is designed first and foremost with the student experience in mind," says Sarah Brown, ccSpark! Product Manager. "Each product feature--from the quirky characters to the zany sound effects--is designed to be fun and engaging for kids. It's been a fantastic product to develop, with lots of input from parents and kids."
Career Cruising was founded in 1997 and is used by nearly 20,000 schools throughout Canada and the United States. The launch of ccSpark! is yet another exciting step in our ongoing mission to engage and inspire individuals of all ages to achieve their full potential in school, career and life.
For more information about Career Cruising, visit http://www.careercruising.com or call us at 800.965.8541.