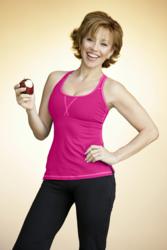 "How exciting to be recognized for doing what I love. Seeing people transform into all that they can be fills me with sincere joy and satisfaction"
St. Petersburg, FL (PRWEB) November 06, 2012
Award Winning TV host, fitness expert and creator of SpinGym, Forbes Riley is recognized worldwide for her tireless effort to get people healthy and fit.
As the CEO/Creator of SpinGym and the host of the Jack Lalanne Juicer and Montel Williams HealthMaster, Forbes Riley and her healthy products have changed the lives of millions of people across the globe. A native New Yorker who spent 20+ years working as an actress, tv host and product innovator in Los Angeles, Forbes relocated to St Petersburg Florida 6 years ago with her family to build a her fitness empire and launch her brands on HSN.
To further her objectives, Forbes has opened Forbes Riley Studios, a television, media and production hub, centrally located in St. Petersburg. This is a unique, secure, interactive center for not only television, film and media production but also offers state-of-the-art teleconferencing capabilities and offers space for seminars, events and coaching for entrepreneurs, inventors and high level masterminds.
This week, Forbes Riley is being honored for her effort by the Affiliated Women International (AWI) as a "Woman of Impeccable Character," an annual award that is extended to a select group of visionary businesswomen. This year's winner also include Julie Weintraub of the Gold and Diamond Source and Hands Across the Bay charity, Ester Venouziou of LocalShops1 and Heather Lindsay Sells, of ShoutOUT enterprises
Each of the awardees were selected because AWI recognized them to exemplify impeccable character in both their personal lives and within their communities as a professional and/or business woman.
"We deem them to be women of integrity, honesty, trustworthiness, generous and a heart for giving back to those in need in their home locales," said Linda S Fitzgerald of AWI. " This is the criteria we used to choose the women we will recognize and honor at the November 12th luncheon and the reason Forbes, Julie Weintraub, Heather Sells and Ester Venouziou were chosen."
"How exciting to be recognized for doing what I love. Seeing people transform into all that they can be fills me with sincere joy and satisfaction whether it be changing their bodies through losing weight and getting fit to acceleating their business and fulfilling their hopes and dreams. With the creation of my Studio here in St Pete, I now have a chance to expand my coaching and classes.
However, if you can't be here physically, I have created a global virtual community and support system through my membership site http://www.FitwithForbes.com, where members can elect to experience many services at the studio on-line," said Forbes Riley.
Clients have traveled from around the world and locally to experience the powerful programming offered at the studio. Currently, Forbes is facilitating a 10-week fitness, diet and personal [empowerment challenge where 31 participants have lost over 600 lbs. collectively over the course of the past five weeks.
Participants of Forbes Riley's 10-week SpinGym SlimDown Fitness Challenge have offered testimonials stating that working with Forbes has been a "Once in a lifetime opportunity to work with one of the best in the field" and that "Every area of my life has changed for the better!" Many participants went into the challenge with a goal of losing weight and getting fit, but many state that what they have gained is far more powerful.
Robin King, owner of St. Petersburg's 3 Birds Tavern says, "Forbes is a woman of impeccable character. As a business woman and leader, she has a gift for bringing people together, especially women, and fostering a culture of support. Women aren't always very nice to each other, and Forbes has a gift unlike anything I've ever seen of bringing out the best in people and having them naturally want to genuinely support and encourage one another. Since I have met Forbes, the most important thing I've learned from her is that everything can change in an instant, and for me it has--nearly every area of my life has changed for the better--mind, body, spirit and business. Forbes Riley geniunely embodies a "Woman of Impeccable Character!"
About Forbes Riley™
Forbes' passion to bring affordable, high-quality fitness, health and household products to consumers worldwide is part of an overall mission to help people live stronger, healthier, more balanced lives.
Forbes is a regular presence on televisions worldwide as a product spokesperson and television host--appearing on such networks as ESPN, TLC, Fit-TV, Animal Planet, ABC Family, Home Shopping Network, QVC, The Shopping Channel (Canada), QVC London and has been profiled by Forbes Magazine in the E! Network special "Outrageous Fortunes". As an actress Forbes Has Appeared in numersous feature films, television shows and even live on Broadway.
Forbes can be seen regularly alongside such celebrities as Mary J. Blige, Tori Spelling, Martha Stewart, Kelly Ripa, Wolfgang Puck, and Susan Lucci on HSN promoting her unique brand of lifestyle products including the Award Winning SpinGym. Forbes has built her success on establishing trust with her audience and creating products that are portable, affordable and produce dynamic results.
This fall she will launch a brightly colored version of her popular SpinGym fitness sensation along with an arm tightening serum called Sleeveless & Sexy, new celebrity workout dvds and the inspirational book, "e.a.t – a Journal for What You Eat and for What's Eating You."
Forbes Riley's dedication to providing unique solutions and innovative products extends beyond her own products and she has opened her own multi-media production studio located in St Petersburg, Florida to not only shoot productions but to also connect with inventors and help bring their products to market.
For more information about Forbes Riley, please visit http://www.ForbesRiley.com
About SpinGym™
Portable, compact, and weighing less than one pound, SpinGym™ is a revolutionary new fitness product. Its award-winning, modern German design combines the physics of inertia and isokinetics to create a completely unique way to train, strengthen and sculpt the muscles of the arms, shoulders, back and core in just 5 minutes a day. This principle is called GRT, Gyrotronic Resistance Training™, and unlike free weights or gym machines, each rotation of the SpinGym™ energizes and activates all the muscles of the upper body simultaneously -- a breakthrough in the world of fitness. SpinGym™ not only provides resistance, but because of the rotational forces created--it becomes a complete fat melting, calorie burning total body gym. SpinGym™ is offered with fitness and cardio workout instructional DVDs. For more information visit http://www.MySpinGym.com