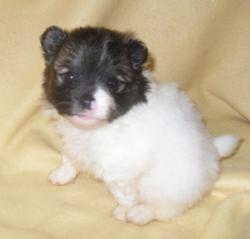 (PRWEB) November 04, 2012
Cutepompuppies.com, a website featuring Pomeranian puppies of all types, announces its holiday special. For $400 per puppy, plus $200 in shipping, anyone in the U.S. can purchase a cute Pomeranian puppy for their loved one this holiday season.
Cutepompuppies.com offers a variety of colored Pomeranians including black, yellow, pure white and mixed colored. The site makes it easy to browse the variety of Pomeranians available making the perfect choice just a click away.
"A Pomeranian puppy is a fragile, tiny creature: only 1/2 to 1 pound (.22 to .45 kiliograms) in weight and extremely sensitive to the new world that he has entered," says website owner Eric Luma. "Weaning this fluff ball is an important aspect of helping him grow from puppy to dog."
According to Luma, from eighteen months until three years old, the Pomeranian is considered an adolescent; however rules and guidelines for an adult dog will apply such as feeding, grooming, vet visits and more.
Luma says a Pomeranian puppy should not leave its litter before eight weeks old. Doing so is a crime in many states. A puppy should stay with its mother until he is 8 to 12 weeks old. The dog will receive the nutrients it needs from mom's milk and have time to learn some behavior rules to grow enough to join the family.
Features of Pomeranian puppies:
Size: The Pomeranian has a shoulder height of 18-28 cm (7-11 in) and weighs 1.5-3 kg (3-7 lbs). It has a wedge-shaped head, small, highly-set, erect ears, and almond-shaped eyes. Pomeranians have a short neck, small feet, and breed characteristic highly-set tail carried over the back, which may take a few months to grow out and flatten. Under its coat, the Pomeranian is somewhat similar in appearance to the Chihuahua. Its head and legs should be in proper proportion to the body.
Coat: The Pomeranian has a soft, fluffy outer coat and long, coarse undercoat. Pomeranians can be black, blue, or chocolate, all with and without tan, and cream, orange, or red, all solid or sable. Other possible colors are regular sable, chocolate sable, wolf sable, "Parti-color" (usually white with another color), white, beaver, or brindle. In other words, just about anything but pink with blue stripes. The male Pomeranian sheds once a year and the female sheds when in heat or after giving birth.
Character: The Pomeranian is an energetic, intelligent dog which is eager to learn and very loyal to its family. It is active and confident. Pomeranians bark at suspicious activity and can be trained to make excellent watchdogs. They enjoy cuddling up for a nap or running around like crazy, sometimes both in the same minute.
Temperament: The Pomeranian gets along well with other dogs and household pets, especially if socialized at a young age. However, it does not tolerate mistreatment and will not enjoy too much attention from young children, as rough play may cause it to grow frustrated and bite. Pomeranians are suspicious of strangers, but will grow used to them when they understand that no danger is presented.
About Cutepompuppies:
The goal of Cutepompuppies is to breed healthy, happy and high quality youngs who will keep new owners happy. They have years of experience to ensure the animals the best care. They provide a loving and caring environment to set them up for a long satisfied life with their new owners. They invite you to visit in person and make sure they are the right choice for you.
Read more: http://www.cutepompuppies.com/about-us/
Contact:
Cutepompuppies
128 West Main Street
Annville
Pennsylvania
17003-1337
206-984-2257
customerservice(at)cutepompuppies(dot)com