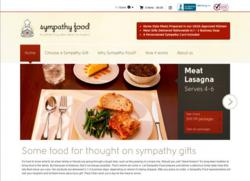 I think this is a great alternative to sending a Cliché bouquet of flowers. At times, flowers can get in the way, have to be moved and become more of a pain than a pleasure.This service has everyone's best interest at heart.
Washington, DC (PRWEB) November 03, 2012
Sympathy Foods was awarded the "Best of the Best" designation for excellence by Follow Media Consulting, Inc. They can be reached at 1-888-994-7401. Sympathy Foods was awarded the Best of the Best Award for Excellence in the category Sympathy Baskets and Memorial Gift. This award signifies the continued commitment and dedication of the areas of food and meals.
Sympathy. For David Storke, it's his life's work. For the past 27 years, he's served as funeral director at Storke Funeral Home in Bowling Green, Virginia. Week after week, David helps families as they go through one of the toughest times in life. And, week after week, he sees his funeral home flooded with flowers—flowers that ultimately go to waste. He felt frustrated by the lack of choices people had when it came to sympathy gifts. That's when he cooked up the idea for Sympathy Food, a comforting alternative to flowers.
"When your next door neighbor dies, you call right away. You take over a casserole. It's a natural progression," David says. But what if that neighbor now lives across the country? Sympathy Food takes away the distance. Even if people can't be there in person, it will feel like they are as they enjoy a Southern-style meal and read your heartfelt note. This was David's vision, and his company has been serving up comfort since 2006.
Named one of the best SEO Companies by Jonas Marketing, Follow Media Consulting, Inc. is a rapidly growing worldwide firm of SEO, Social Media, and Mobile Marketing Professionals. Follow Media Consulting, Inc. headquarters is located in Richmond, VA. However, our professional team is networked across the world, with regional offices across the United States, in the United Kingdom, Canada, Australia, France, South Africa, the Philippines, and India.