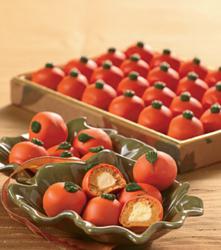 This Thanksgiving, let Swiss Colony's bakery experts bring the best of our kitchen to your house.
Monroe, Wisconsin (PRWEB) November 06, 2012
Thanksgiving is the biggest show-stopping meal of the year. To ease the stress of preparing the annual feast, home cooks should consider purchasing delectable desserts just like mom would make from The Swiss Colony bakery http://www.swisscolony.com where local ingredients take center stage.
All of Swiss Colony's bakery items are made in small batches with Wisconsin butter, real cream, whole eggs, high quality chocolate and cocoa, and other fresh ingredients. A majority of the ingredients are sourced in Wisconsin and throughout the Midwest.
Pumpkin pies are easy for home cooks to bake. But how about carrot cake? Swiss Colony takes exceptional pride in their Carrot Cake Creme Torte which starts with fresh, whole carrots that the bakery team washes and grinds on site.
"Fresh carrots add such amazing flavor and texture along with walnuts and pineapple in our carrot cake recipe," says Becky Henke, VP Food at The Swiss Colony. "Next, we layer it with real cream cheese, cover it in Swiss creme and hand decorate it with icing."
Hand decoration is a source of pride for the Wisconsin-based bakery which trains bakery employees who show an artistic talent for the trade. There are more than four dozen hand decorators who adorn cakes, Petits Fours, truffles and more with dots, swiggles and intricate designs.
Swiss Colony's Thanksgiving line up includes classics such as Deep Dish Caramel Apple Pie ($29.95), French Vanilla Cheesecake ($31.95), Caramel Apple Cheesecake ($31.95), and Pecan Tarts ($21.95). New this season are a Pumpkin Coffee Cake ($20.95) and a festive tin of Walnut Oatmeal Pumpkin Cookies ($19.95) that would look pretty on a buffet table or given as a special gift.
Pre-meal appetizers and snacks abound at Swiss Colony too, from wheels of cheese and creamy cheese spreads, nut covered cheese logs and a variety of savory sausages to snack on while watching football.
One of the bakery's most popular Fall items are the Spiced Pumpkins ($19.95). Each little round orange pumpkin is filled with a moist pumpkin cake wrapped around real cream cheese filling. It's the perfect bite-sized sweet for after a huge Thanksgiving meal.
Another after dinner delight that teams up with a cup of steaming coffee or tea is the delicately spiced Pumpkin Bark ($20.95) that was developed in Swiss Colony's candy kitchen. The luscious chocolate bark is packaged in a festive gold tin and can be served alongside pumpkin pie.
"This Thanksgiving, let our bakery experts bring the best of our kitchen to your house," adds Henke.
All of these treats and more can be found online at http://www.swisscolony.com, in the hard-copy catalog and on Google catalogs. Find Thanksgiving items by using the "Shop by Occasion" tab at the top of the website. Consumers can also "Shop by Price" or "Shop by Category," which makes searching for party treats and gifts easy.
Special offers are posted on the company's Facebook page at http://www.facebook.com/theswisscolony. For more updates, follow product news on Twitter @TheSwissColony.
About The Swiss Colony
The Swiss Colony is a family-owned Wisconsin company that has been creating food gifts for more than 85 years. The company insists on the highest quality ingredients for a large selection of festively packaged gifts for every occasion.