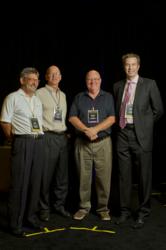 ComTech has come out on top in 2011 and is leading the way for 2012.
San Diego, CA and Washington, D.C. (PRWEB) November 05, 2012
ComTech Systems Inc., a leading voice and data solutions provider in the Washington D.C. metro area, announced today that the company received one of FreedomVoice's top awards at the Technology Assurance Group (TAG) 2012 Convention held in New Orleans in September. FreedomVoice, one of the largest US providers of cloud-based VoIP phone systems, selected ComTech as the winner of the "2011 Top FreedomIQ TAG Partner Producer" award. The convention hosted by TAG, an international organization of independently owned unified communications companies in the United States and Canada, was attended by TAG's Member companies and leading technology manufacturers.
Scott and Dennis Hobbs, owners of ComTech Systems, were presented with the award for selling more FreedomIQ business phone system seats than any other TAG member by Eric Thomas, President and CEO of FreedomVoice. "They are a dynamic duo; they have been loyal and committed to FreedomVoice over the years, and we appreciate that," said Thomas. "ComTech has come out on top in 2011 and is leading the way for 2012."
Scott Hobbs, President of ComTech Systems, attributes the success to a familiarity with the FreedomIQ service. "We have confidence with FreedomVoice as a carrier and confidence with their ability to help us through the sales engineering process," said Hobbs. "I think the value in FreedomIQ is the strength of the company and the years in the industry, the experience."
ABOUT COMTECH SYSTEMS
Founded in1985, ComTech Systems, Inc. has striven to exceed its customers' expectations for reliable, cost-effective corporate communications systems and superior customer service specializing in telephone systems (VoIP, Key, PBX and Hybrid), voicemail and interactive voice response, voice and data cabling, paging systems, wireless systems, computer telephone integration, call center management applications and offering maintenance and service expertise of many other types of telecommunications products.
ABOUT FREEDOMVOICE
FreedomVoice was founded in 1996 and today serves nearly 30,000 customers nationwide. It got its start providing virtual phone systems to small businesses and Fortune 500 companies alike. This service remains a key offering from FreedomVoice, including business-enhancing features such as 800 numbers, an auto attendant, call forwarding, and voicemail-to-text. FreedomVoice launched the FreedomIQ hosted VoIP phone system product in 2006, responding to overwhelming business demand for cloud-hosted phone service. All of FreedomVoice's platform technology has been developed in-house to provide a unique, customizable, and flexible solution that works with any company's workflow. Based in Encinitas, CA, FreedomVoice is privately-held and remains profitable through strategic partnerships and the agility to develop new technologies ahead of the curve.
For more information, please visit the company's websites at http://www.FreedomVoice.com and http://www.FreedomIQ.com.
"FreedomVoice" and "FreedomIQ" are registered trademarks of FreedomVoice Systems.
ABOUT TECHNOLOGY ASSURANCE GROUP (TAG)
Technology Assurance Group, LLC (TAG) is an international organization of leading independently owned unified communications companies. TAG provides its members with the competitive advantages necessary to achieve a dominant position in their marketplace. Members benefit from programs including strategic partnerships with communication solution providers, best business and management practices, and advanced sales training programs. TAG's mission is to increase its Members' sales and profits through education and to ease their introduction of new technology to the marketplace by leveraging their combined intellect and purchasing power. For more information on TAG, please call 858-946-2100 or visit http://www.tagnational.com.