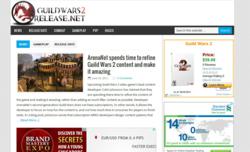 GuildWars2Release.net features some of the most exciting changes in incorporated in Guild Wars 2.
Phoenix, AZ (PRWEB) November 17, 2012
Guild Wars is a Massively Multiplayer Online Role Playing Game that has created legions of avid fans the world over. Showing an epic-fantasy gameplay, Guild Wars involves the creation of an avatar that takes on the role of a hero who must save the fantasy world Tyria from antagonists.
Enjoying critical reception, the Guild Wars series has received many editor's choice awards, including Best Value, Best MMORPG and Best Game.
Continuing the saga, developer ArenaNet unveiled Guild Wars 2 in September 2012. The Guild Wars 2 release shows how the interest of the market for MMORPGs is unquenchable, with sales hitting more than 2 million copies in just a few weeks' time.
GuildWars2Release.net features some of the most exciting changes in incorporated in Guild Wars 2. Compared with the first title, Guild Wars 2 presents innovative combats, with no auto aim or continuous repetition of skill sets. Dynamic events through Open World Quests also allow players to receive items without having to pick up a quest from a quest giver.
Experiencing the Character Biography element of the game, Guild Wars 2 gamers have the capability of choosing what rank of their race's society are they from, how their personality may affect how the game is started, and how the personal story of the character will start and progress.
Game changing decision making is also a highlight in the latest Guild Wars 2 release, which essentially allows the player choose to do one quest for other. The World Player Vs. Player allows players to join a territory engaged in a territory war against other fellow players.
In addition, gamers can play the game entirely through PVP rather than questing Player vs. Environment feature.
GuildWars2Release.net explores the entirety of Guild Wars 2, featuring how the online multiplayer online RPG eradicates the old genre video games that do not embrace the social gaming world.
To know more about Guild Wars 2 release, please visit http://www.guildwars2release.net for the latest news and comprehensive information.
ABOUT
GuildWars2Release.net offers a wealth of information about Guild Wars 2, the second installment to the Guild Wars saga that has gained the interest of millions of fans worldwide.