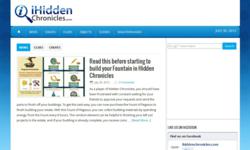 iHiddenChronicles.com provides comprehensive discussions on exploring grounds to reveal more secrets and bonuses.
Phoenix, AZ (PRWEB) November 04, 2012
Video games and online games of just about every type are expected to draw massive following when one of the many crucial gaming components is met: quests hurdled by exploring visually interesting environments. Maximum exposure to potential gamers is guaranteed as well when social media platforms are utilized.
Created by leading game developer, Zynga, Hidden Chronicles is a hidden object social game that was launched in January 2012. Partnering with Facebook, Zynga's first game with the hidden object theme lets gamers earn points by navigating through the scenes and unlocking them – all while interacting with and challenging friends on the leading social network site.
A freemium game, Hidden Chronicles does not cost players a dime, but they can opt to pay for premium content.
iHiddenChronicles.com is dedicated to Zynga's popular games on Facebook. The website is chock-full of information about the game that pushes for a discovery of stunning scenes to uncover hidden objects, solve puzzles and unlock mysteries.
iHiddenChronicles.com provides comprehensive discussions on exploring grounds to reveal more secrets and bonuses. It is also home to valuable gameplay tips, objects, guides, walkthroughs and cheats on upgrading buildings, creating fountains, fast-finding Boosts to help up scores, doubling cash vault amounts, and acquire free target hints.
At iHiddenChronicles.com, Hidden Chronicles players will find walkthroughs and guides that cover the Guardian Challenge under the FastFind games, the Ring of Truth, Moroccan bazar items, Bubble Safari Quest, and the Zeus statue. A costume shop guide is also posted on the website to assist players in dressing up the characters.
According to iHiddenChronicles.com, it pays to look out for chances that Zynga offers Hidden Chronicles gamers to win various items and estate cash. Contests from the developer often entice players to be imaginative and creative to win the prizes.
To learn more about Hidden Chronicles and the strategies to win, please visit http://www.ihiddenchronicles.com for information and expert gaming insights.
ABOUT
iHiddenChronicles.com is a website that provides the latest information and news regarding the social network game Hidden Chronicles. Visitors can find cheats, clues, and walkthroughs along with other tips for Hidden Chronicles.