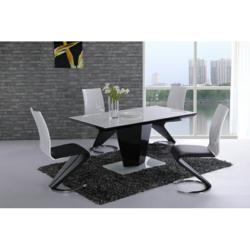 FurnitureInFashion slashes its prices by 50% on Dining Table and Chairs, ahead of Christmas festive season
(PRWEB UK) 1 November 2012
Christmas is just around the corner and to celebrate festivity of this warm and colorful event, FurnitureInFashion has slashed its prices by 50% on dining table and chairs. The consumers now can celebrate the festivity of Christmas by incorporating stylish, modern and contemporary dining tables and chairs in their dining rooms and make memories. FurnitureInFashion is offering the price reduction in its extensive range of dining table sets and separate dining table and chairs. Homeowners now can buy separate chairs and table from the extensive and exclusive range of dining furniture.
The owner and Managing Director of FurnitureInFashion Asad Shamim said, "We believe in celebrating the festivity with our customers, which is why we have slashed the prices on our dining table and chairs. We are going to provide an opportunity to our customers to make memories in this great season of festivity. We have tried to offer the 50% price reduction a little earlier before Christmas because we want every homeowner to take advantage of this opportunity."
FurnitureInFashion is an online retail furniture shop with a showroom located in Bolton, the United Kingdom. It is now one of the leading online stores and is popular for supplying furniture at the cheapest prices. The dining range of FurnitureInFashion was already available at reasonable prices and now with a 50% price reduction, people with limited budget can afford modern and contemporary dining tables and chairs. FurnitureInFashion offers dining tables in wood, glass, oak, high gloss, walnut, walnut Baltimore, marble and many other materials. These dining tables are sturdy and durable due to the use of German manufacturing processes. The modern and contemporary Italian design concepts have been fused together in the manufacturing of these tables.
Mr. Asad Shamim said, "You can find any size, color and design in these tables as FurnitureInFashion offers an extensive range of dining tables. These tables have been made from quality materials. The glass dining tables have tempered glass to provide protection and durability." The dining tables are available for 4 seater, 6 seater and 8 seater arrangement. Homeowners can also buy small dining tables with two seats as well. Mr. Asad said, "Our high gloss dining table range has been a great success due to its contemporary design and high quality modern finish. The high gloss dining tables can be ideal addition for any modern home. With 50% reduction in prices, anyone even with a limited budget can now enjoy the class of a high gloss dining table."
FurnitureInFashion is known for its exclusive range of dining chairs. These chairs are available in different finishes including wooden, oak, Baltimore, walnut, steel, patio and many more. These chairs are usually available in leather and velvet seating. Mr. Shamim said, "Our customers can now enjoy their customized and personalized dining table set as they can choose the chairs separately from the extensive range of our dining chairs. They can either choose from leather or velvet seating as per the requirement of the home. The velvet and leather are available in extensive color range and include from traditional to contemporary colors. You can now have any bold combination of dining table and chairs in your dining room." The 50% price reduction in dining tables and chairs is valid before the Christmas. People who are interested in this offer must place the order with FurnitureInFashion already to get their hands on the best pieces.
About FurnitureInFashion
FurnitureInFashion is a UK based online retail business. It supplies furniture items from its German based warehouse and has a showroom in Bolton, UK. The company provides everything from floor lamps, table lamps and bathroom lighting to sideboards, bistro furniture and computer tables. FurnitureInFashion offers excellent free delivery within UK and has a fantastic customer service as well. For further information and details about the sale, visit http://www.furnitureinfashion.net