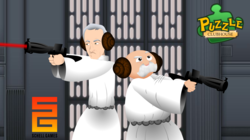 Remember the early Scooby Doo cartoon episodes that showcased stars, like Sonny and Cher, Don Knotts and Tim Conway, in animated form? We've taken that idea and expanded it to our newest episode of Puzzle Clubhouse. -- Jesse Schell, CEO
Pittsburgh, PA (PRWEB) November 01, 2012
In another twist, Schell Games brings a retro concept to episodic gaming. For the first time, Schell Games' Puzzle Clubhouse, an online community where the players make the games, will feature a guest celebrity in its newest monthly adventure, due out today. Anthony Daniels, best known as C-3PO® in the Star Wars® movies, will play a featured role in this episode.
Jesse Schell, Schell Games CEO explains the concept by likening it to classic cartoons of the past. "Remember the early Scooby Doo cartoon episodes that showcased stars, like Sonny and Cher, Don Knotts and Tim Conway, in animated form? We've taken that idea and expanded it to our newest episode of Puzzle Clubhouse." It is the second episode for Puzzle Clubhouse, which debuted in September 2012. The site currently has more than 500 members.
By inviting guest stars to appear in the episodic game, Schell Games hopes to attract new fans to Puzzle Clubhouse to experience game design and development first hand. "We are confident guest stars will increase awareness of our site to different audiences. Stars, like Daniels, bring a new energy and excitement to the episodes. And our current members appreciate the anticipation of not knowing what we will do next," asserts Schell. He adds, "We'd love to have more guest appearances in the future."
Anthony Daniels, a friend of Schell Games, was delighted by the idea of being represented as an animation in this Puzzle Clubhouse episode. "I've been working hard on the scripts, and it's been lots of fun. The team at Schell Games is wonderfully dedicated to bringing fresh, creative ideas to each new episode. They are experts, and it was a pleasure working with them," observes Daniels.
In conjunction with the release of its newest Puzzle Clubhouse episode featuring Mr. Daniels, the company is sponsoring a sweepstakes for everyone who signs up for a free or paid membership from November 1 through 15. Those who become members during that period will be eligible to participate in a random drawing to win one of ten Star Wars C-3PO figures signed by Daniels himself. Current, active members of Puzzle Clubhouse who sign into the site during that time will be included in the contest, too.
To view the newest Puzzle Clubhouse episode featuring Anthony Daniels or to learn more about this gaming community, go to http://www.puzzleclubhouse.com. In addition, there is a special testimonial available from Anthony Daniels on You Tube.
About Schell Games
Schell Games is a full-service game design and development company, specializing in creating transformational games and innovative interactive experiences.
The studio was founded in 2002 by one of the world's top game designers and renowned author, Jesse Schell, and is made up of talented artists, programmers, producers, and game designers. Driven by a passion to create highly memorable experiences, this team has developed online and educational games, interactive theme park attractions, social and mobile games, internet-enabled toys, and virtual worlds – all with a focus on finding the Fun.
Schell Games has successfully found the Fun for many clients, including some Fortune 100 companies, such as The Walt Disney Company and Microsoft Corporation. The company is headquartered in Pittsburgh, Pennsylvania. For more information on Schell Games, visit us at http://www.schellgames.com.